GH Spoilers Thursday, June 16: Brook Lynn Causes Trouble, Selina Unhappy, Carly Flirts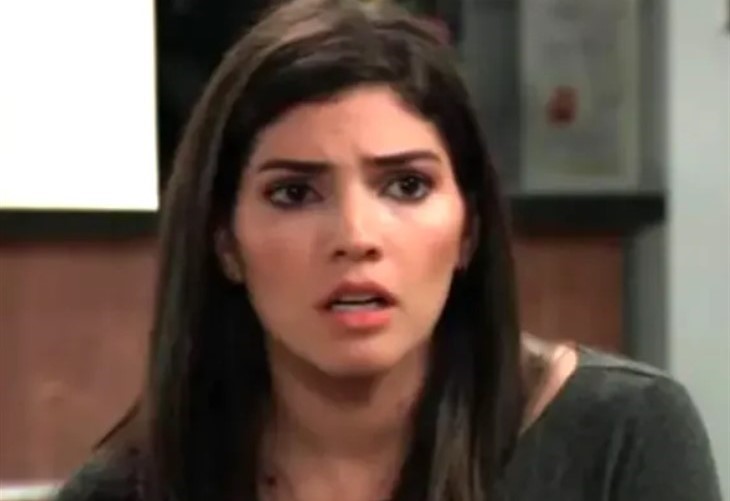 General Hospital spoilers for Thursday, June 16 tease all bets are off as there's trouble for many, but good times for a few in the next GH!
General Hospital Spoilers – You're In A Worse Position
At The Savoy, Harrison Chase (Josh Swickard) has finally tracked down Brook Lynn Quartermaine (Amanda Setton) after she sent him for Pina Coladas and then ran off! Brook Lynn wanted to catch Linc Brown (Dan Buran) doing something illegal to try and blackmail the rights to her songs out of him! Chase tells her she's in a worse position now than she was before, because for one thing she looked through his coat pocket and followed him – no warrant, no arrest!
Brook Lynn likely made trouble for a lot of people including Chase and Curtis Ashford (Donnell Turner) with her impulsive move. Even if there was to be a bust of the high stakes poker game Selina Wu (Lydia Look) runs, Curtis made sure everything was on the up and up!
GH Spoilers – What Did You Do To Deserve This?
It looks like Dr. Britt Westbourne (Kelly Thiebaud) may have found someone injured or possibly beaten that she cares about – she looks downward and appears to be giving CPR! She looks with care, concern and worry in her eyes as she asks the unknown person what did they do to deserve this? It's possible that she's giving CPR to Cody Bell (Josh Kelly) after Damian Spinelli (Bradford Anderson) told Zelda Telesco (Kristin Carey) that Cowboy Cody was going to be a problem! Britt doesn't like him but that doesn't mean she wants him dead, and he had headed straight over to The Savoy to gamble after he got his money!
General Hospital Spoilers – There's A Problem With The Game
At The Savoy, Brad Cooper (Parry Shen) tells Selina Wu (Lydia Look) there's a problem with the game, so we know it isn't him Britt is so concerned over! Chances are the problem is closely related to Brook Lynn's following Linc over to the game, and Chase is on suspension but Brad doesn't know that! The presence of a cop, on or off duty, could disturb those poker players who may not have the best of relationships with law enforcement!
As a matter of fact, seeing someone they may recognize as a cop would drive business away from the game! Selina isn't happy when she gets the bad news from Brad!
GH Spoilers – Bust Me!
At the Highsiders bar, where Trina Robinson (Tabyana Ali) and Josslyn Jacks (Eden McCoy) decided to play detective they are in the midst of a bust themselves! They went to find out if Esme Prince (Avery Kristin Pohl) bought the phone there that she used to frame Trina with even though Spinelli warned them not to. They hit pay dirt until they were recognized and a barroom brawl broke out and the cops were called! Joss tries to convince the cops to bust her and let Trina go! Like her mother Carly Corinthos (Laura Wright) Josslyn just can't leave well enough alone, and this could hurt Trina's case more than help it!
General Hospital Spoilers – I Think I Can Still Be Of Some Use
In a car going to the destination of their first real date, Valentin Cassadine (James Patrick Stuart) tells Anna Devane (Finola Hughes) he thinks he can still be of some use! Valentin is likely meaning that as a double entendre and flirting with her, but he could be referring to the spy business as well! Shop talk is bound to come up between the two longtime friends on a slow burn to romance, and he did go on a mission, narrowly missing discovery by Anna!
Valentin's trip to French Polynesia under the cover identity of French Naval Captain Francois Olivier has got to be on his mind. He wants to come clean but he may not be able to just yet, since he's still getting calls from Victor Cassadine (Charles Shaughnessy)!
GH Spoilers – I Was Surprised
Apparently Sonny Corinthos (Maurice Benard) may have convinced Nina Reeves (Cynthia Watros) to come home with him anyway, as they lean in close and talk. Sonny, after Carly reiterated to him there was no path for them to reconcile and she agrees with Michael Corinthos (Chad Duell) he's cut off his family went to Nina. Nina was very hesitant while they were still at The Savoy to go home with Sonny and stay the night, and they don't appear to be there. She tells Sonny when he said that she was surprised- what could "That" be?
General Hospital Spoilers – I Was Hoping
At The Metro Court Pool, Drew Cain (Cameron Mathison) is apparently swimming after hours as Carly spots him all wet and in swim trunks! He pops up from under the water and tells her he was hoping the owner would bend the rules for him! Carly tells Drew he's a welcome sight and she's been edging closer to him in a more than friends way!
Carly understands Drew is not Jason Morgan (Steve Burton) and won't be a Jason replacement for her. But she obviously thinks that he's the next best thing as she smiles down at him!
Be sure to catch up on everything happening with GH right now. Come back here often for General Hospital spoilers, news, and updates.