GH Spoilers: Spencer Jumps To The Wrong Conclusion, Thinks Trina Is Engaged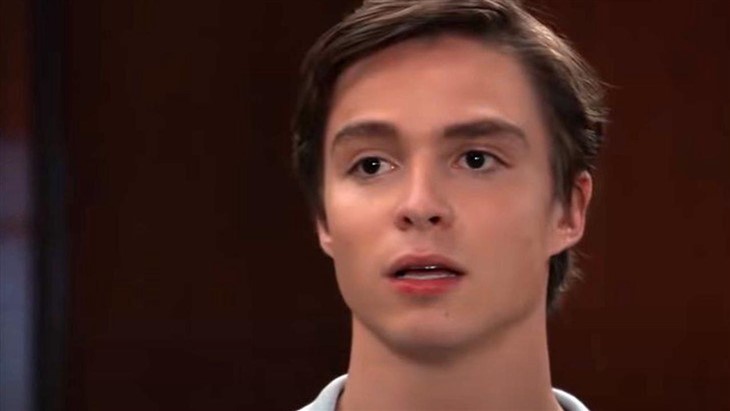 General Hospital (GH) spoilers indicate that Spencer Cassadine (Nicholas Chavez) may misunderstand a conversation that he overhears. Spencer will jump to the conclusion that Trina Robinson (Tabyana Ali) has gotten engaged to Rory Cabrera (Michael Blake Kruze). How does Spencer misunderstand so badly?
General Hospital Spoilers – Spencer Cassadine Gets Out Of Pentonville
General Hospital spoilers reveal that during the week of December 5-9, Spencer should be getting released from Pentonville. However, a misunderstanding may make Spencer's release a bit bittersweet. Spencer has hoped that he and Trina could reconnect after his release. However, Spencer may jump to the wrong conclusion about Trina's love life.
The writers seem to keep throwing curve balls at Spencer and Trina. It seems that this is just another obstacle. Rumors suggest that Spencer may hear Trina talking about Curtis Ashford (Donnell Turner) and Portia Robinson's (Brook Kerr) wedding. Curtis and Portia plan to get married on Valentine's Day, Spencer will jump to the conclusion that Trina is engaged.
GH Spoilers – Trina Robinson May Need A Date
Trina may be updating Rory on the wedding arrangements. Of course, Trina may also invite Rory to be her date for her mother's wedding. After all, Rory and Trina are supposed to be dating so why wouldn't she invite him to come along? Will Spencer misunderstand a talk about their date and assume it is much more?
After Trina's visit, Spencer may have hoped to get a second chance with Trina. Spencer is likely to be shocked by this conversation and easily misunderstands that conversation. Will Spencer confront Trina or jump to conclusions like he used to? Spencer tends to make the wrong decisions for the right reason. Will Spencer think before he acts?
General Hospital Spoilers – Trina Robinson May Put Spencer Cassadine In His Place
Spencer is likely to say something to offend Trina. Trina is also likely to put Spencer in his place. Spencer cares about Trina and doesn't want her with Rory. However, Trina couldn't even sleep with Rory because of her feelings for Spencer. Will Trina tell Spencer how she really feels about him if he brings this up?
Spencer and Trina have been fighting their feelings for months, when will they finally deal with this? Will Trina and Spencer manage to work things out and finally be together? Will Spencer's misunderstanding put a bigger gap between them instead? Spencer and Trina always seem to have something come between them, is it time for a change? Will there be yet another misunderstanding when Esme Prince's (Avery Kristen Pohl) pregnancy is revealed?
Be sure to catch up on everything happening with GH right now. Come back here often for General Hospital spoilers, news, and updates.