GH Spoilers: Gladys Demands The Truth From Sasha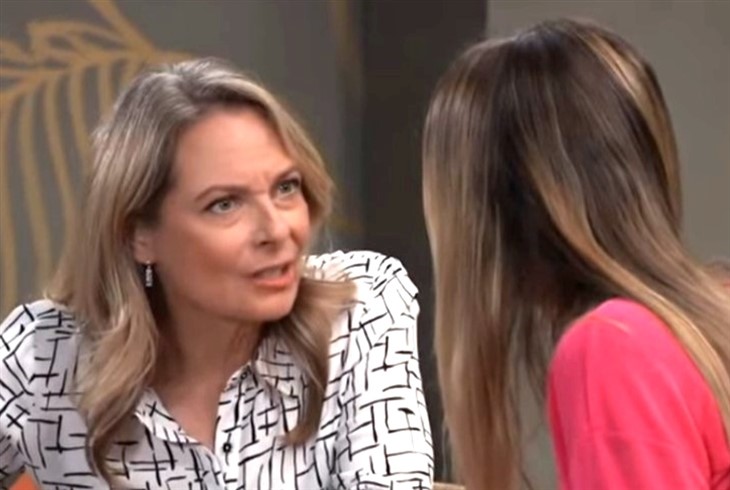 General Hospital (GH) spoilers and updates reveals Gladys Corbin (Bonnie Burroughs) had no idea that Sasha Gilmore (Sofia Mattsson was back on drugs until she saw photo proof. Gladys' decision to steal the photographer's memory card almost got her and Sasha killed in a high-speed chase. Gladys has decided that it is time for some answers from her daughter-in-law. Will she accept the answers she gets?
General Hospital Spoilers – Sasha Gilmore Is Still Grieving
General Hospital's Sasha Gilmore is still grieving the loss of her son Liam Corbin (uncast role). Sasha was not prepared to lose her son and it has taken its toll on the recovering addict. Gladys was not really concerned about Sasha's addiction until she discovered the photo of Sasha with pills. Now she has to face the fact that her son's marriage and Sasha's career could end up on the line if something is done about this. Will Gladys cover for Sasha as long as she promises to stop? Will Gladys force Sasha to get help or threaten to go to Sasha's bosses? Could Gladys even tell Brando Corbin (Johnny Wactor) about Sasha's drug use?
GH Spoilers – Gladys Corbin Becomes The Go-Between
General Hospital's Felty (Brian Norris) promised to get drugs for Sasha if she gave back the memory card. Of course, Felty also promised to get rid of Sasha's photos as well. Gladys is forced to take matters into her own hands when Felty approaches them at dinner with Brando present. Felty is holding the photos over Sasha's head pushing Gladys to step in. After all, Gladys is the one who took the memory card, not Sasha. Now that Gladys has the pills in hand, she has more than enough reason to confront Sasha. Will Gladys give her daughter-in-law an ultimatum?
General Hospital Spoilers – Gladys Corbin Demands Answers
General Hospital's Gladys may be a freeloader but she certainly does not want any part of drugs. However, Gladys finds herself with Sasha's pills and demands her daughter-in-law tell her what is going on. Gladys could act as the concerned mother-in-law and try to help Sasha get off the drugs again. However, Gladys is somewhat money hungry and could demand stock from Sasha to keep her mouth shut. Will Gladys allow Sasha to continue on drugs putting her marriage at risk?
Gladys is concerned for Sasha in many ways. Sasha is the model for Deception and without her, Gladys has no income. Sasha is married to Gladys son who is head over heels in love with her. Gladys has also grown to genuinely care about Sasha and doesn't want her hurt. How will Gladys handle this situation for the best of the family?
Be sure to catch up on everything happening with GH right now. Come back here often for General Hospital spoilers, news, and updates.