GH Spoilers: Esme Makes A Fatal Mistake With Ryan Chamberlain!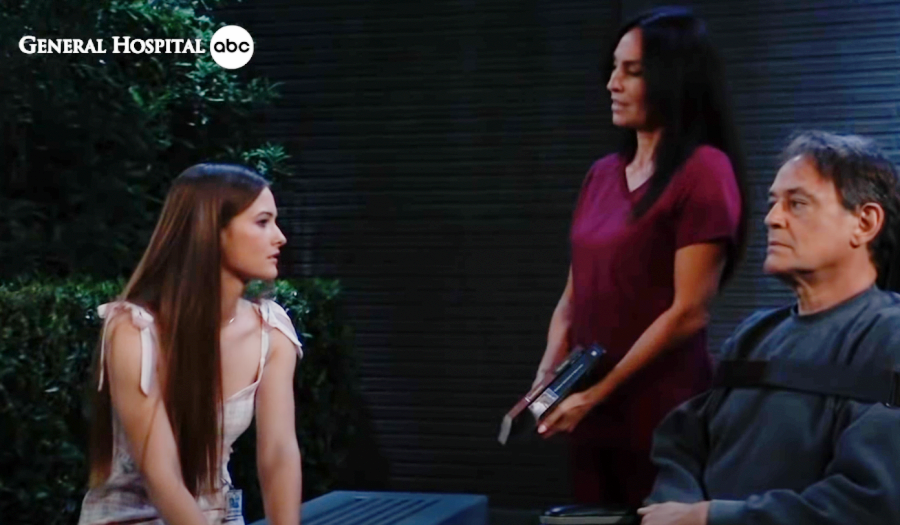 General Hospital (GH) spoilers tease that Ryan Chamberlain (Jon Lindstrom) is seemingly helpless. For all intents and purposes, Ryan seeming has something called Locked-in Syndrome, which occurred after Ryan was stabbed while serving jail time in Pentonville for the murder of Kiki Jerome (Hayley Erin), and others as well. He was moved to a lower security in light of his injuries. Ava Jerome (Maura West), the object of Ryan's obsession, didn't believe that Ryan wasn't faking, but was eventually convinced.
General Hospital Spoilers – Esme Prince seemingly has a connection to Ryan Chamberlain
When Spencer Cassadine (Nicholas Chavez) returned to Port Charles in order to stalk Ava, Esme Prince (Avery Kristen Pohl) came with him. Esme seems to have an obsession with Ryan and even once told him that their plan was working. Ryan was seemingly unable to respond but at least on one occasion he seemed agitated by Esme's presence. He even warned her to "run". He might be trying to warn her to stay away from him because it won't end well for her, no matter who she is.
General Hospital Spoilers – Ryan Chamberlain has no loyalty to anyone but himself!
It's been speculated that Esme may be related to Ryan in some way, and is perhaps even his daughter. But as his relationship to his twin brother, Dr. Kevin Collins (also Jon Lindstrom) has proved, family doesn't mean the same thing to Ryan as it does to most people. He had Kevin trapped in a mental institution for months, while he pretended to be his brother. Even if Esme is his daughter, that doesn't mean she is safe.
General Hospital Spoilers – Ryan Chamberlain won't want anyone to know he can move.
Assuming that Ryan's medical situation has improved, or is about to thank to Esme somehow. That doesn't mean that Ryan will want any loose ends. He would likely not hesitate to kill Esme in order that no one know he can move again. While Esme might thing she can handle anything, she has no idea what she is dealing with when it comes to Ryan's true nature.
General Hospital Spoilers – What do you think?
Is Esme related to Ryan? Has Ryan regained movement or will Esme somehow help him recover? Would Ryan murder his own daughter to make sure his recovery remains a secret? Anything can happen in Port Charles so stay tuned to General Hospital airing weekdays on ABC. And don't forget to check back right here regularly for all your General Hospital news, information and spoilers!