GH Spoilers: Drew And Carly Make Love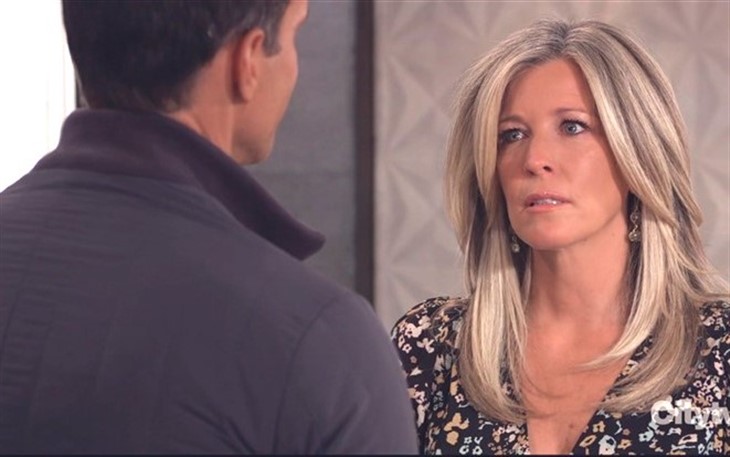 General Hospital Spoilers tease that Jason Morgan (Steve Burton) has been missing, and presumed dead, for several months now. Wanting her family to get on with their lives, Monica Quartermaine (Leslie Charleson) has made the difficult decision to have Jason declared legally dead. While this will provide a sense of closure to those who loved him, it's still going to be quite emotional.
A planned memorial service would be the last thing that Jason would want, but Monica will likely plan one so that everyone who loved Jason can say goodbye. Two people who will struggle the most with any type of final goodbye for Jason will be Drew Cain (Cameron Mathison) and Carly Corinthos (Laura Wright).
General Hospital Spoilers – Carly Corinthos And Jason Morgan Were More Than Just Best Friends!
Carly and Jason had a long history. To define it as just a friendship would do the relationship a disservice. They were everything to each other. And after Sonny Corinthos (Maurice Bernard) was presumed dead last year, Carly and Jason planned to be married. And it was going to be a real marriage if Sonny hadn't shown up when he did.
Carly's emotions about Jason's death are over the place. And while she knows that Jason would hate a memorial service, she will certainly attend. But saying goodbye to her friend won't be easy. Luckily, she will have Drew at her side.
GH Spoilers – Drew Cain And Jason Morgan Had A Troublesome History!
Jason and Drew were twins, although Jason had no idea Drew even existed until a few years ago on General Hospital. And because everyone thought that Drew was Jason when Drew first came to town, their relationship was rocky at best. It didn't help that they both loved Sam McCall (Kelly Monaco). But when Jason went to Greece to rescue Drew from Victor Cassadine (Charles Shaughnessy) all that animosity disappeared and the two finally saw each other as brothers. Unfortunately, Jason didn't make it back from Greece.
General Hospital Spoilers – Jason Morgan's Memorial Will Bring Drew Cain And Carly Corinthos Even Closer!
Over the last few months on General Hospital, Drew and Carly have bonded over Jason's death. But now that he is being declared legally dead, the two will have to say goodbye to the man that they both loved and respected. Those emotions will likely bubble up in unexpected ways.
Although Drew and Carly almost made love a few weeks ago, it was all for the wrong reasons and they stopped themselves. But that won't be the case once they say goodbye to Jason. Carly and Drew will likely make love after the service and may become a couple after that. Whether or not it is their grief talking or if it is the real thing, Drew and Carly will likely come together as a couple going forward!
GH Spoilers – What Do You Think?
Will Carly and Drew attend Jason's memorial service? Can they say goodbye? And will their emotions cause them to come together and make love afterward? Anything can happen in Port Charles so stay tuned to General Hospital airing weekdays on ABC.
And don't forget to check back right here regularly for all your General Hospital news, information and spoilers!