GH Spoilers: Cody And Olivia's Sizzling Stable Passion, Ned Destroyed?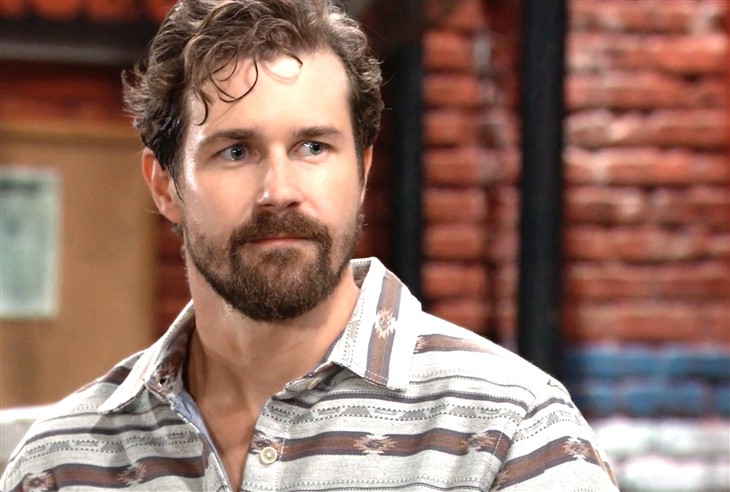 General Hospital (GH) spoilers tease that Cody Bell (Josh Kelly) is all kinds of frustrated he can't get no satisfaction with Society Setup Britt Westbourne (Kelly Thiebaud). Of course, these two are a totally setup, as in the match supposedly made between them by the dating service is as bogus as a three dollar bill.
Cody is arm candy, the show did not bring him on to wax poetic about equines and shovel manure. Soaps revolve around love in the afternoon so if he does not hook up with Britt, who else will give him a reason to take off his shirt? How about Olivia Falconeri Quartermaine (Lisa LoCicero)?
General Hospital Spoilers – Who Is Cody Bell?
Cody is a mystery wrapped in a cipher rolled up in a conundrum. Sure, we know that he is a bad boy, the troublesome pal of Dante Falconeri (Dominic Zamprogna) from back in the day when they were at summer camp. But who is he really? At this point the show can make him be whoever and whatever they want, because he is not completely fleshed out.
So, would he be the guy who sleeps with his bro's mom?
GH Spoilers – Ned And Olivia Quartermaine Are On Shaky Ground?
Olivia and Ned are coparenting Leo (Easton Rocket Sweda) but how solid is their marriage? Is Olivia really over Ned sleeping with Alexis Davis (Nancy Lee Grahn)? She has never been comfortable with his sharky business ways, but that's about all he knows. They have not been front and center lately and it's entirely possible that these two have not solidified their relationship to 100% as it was in the beginning.
Stranger danger appeals to Olivia who was a wild girl back in the day, so why wouldn't she hook up with a hot and sweaty stable boy under her husband's nose?
General Hospital Spoilers – Will Mama Celeste Cook Up Some Pasta?
Explosive show spoilers tease that Cody and Olivia could be on a collision course. She is the lady of the mansion, he is the stud in the stable—perfect daytime dramarama. Think about it GH fans, do you want to see Olivia and Cody hook up? Would you enjoy all of the soapy complications that would follow? Most importantly, does Olivia deserve a man who would place her first, a feisty man who would keep up with her and bring the spark of joy back to her life? Tell us what you think!
Be sure to catch up on everything happening with GH right now. Come back here often for General Hospital spoilers, news, and updates.