GH Spoilers: Ava Connects Dots, Discovers Willow/Nina Bombshell?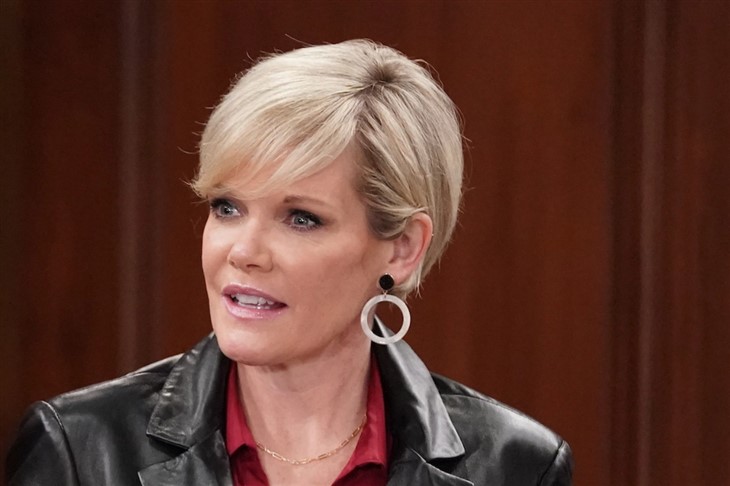 General Hospital (GH) spoilers reveal that Ava Jerome Cassadine (Maura West) went to the hospital and morgue to see if Esme Prince (Avery Kristen Pohl) was there. While at the hospital, Willow Tait (Katelyn MacMullen) sobbed in Ava's arms. Even though Willow didn't share her possible diagnosis, Ava could find out the truth… as well as Carly Corinthos' (Laura Wright) secret.
General Hospital Spoilers – Ava Jerome Cassadine'S Slip
GH spoilers reveal that during a recent episode, Ava went to the hospital to see if Esme had been brought it. Without mentioning Esme's name, Ava quizzed Willow about possible Jane Doe's that were brought in. As Ava was talking, she mentioned never knowing when someone's time is up. This caused Willow to turn and walk away, shaken by Ava's statement.
While Willow's back was turned, Ava took a look at the computer and didn't see any Jane Doe's or Esme's name. Ava also checked the morgue and discovered Esme's body wasn't there.
GH Spoilers – Comforting Willow Tait
While at the hospital, Ava learned that Willow was pregnant. The two chatted and Willow suddenly broke down in tears. Of course, Willow claimed it was just the pregnancy causing the tears. Ava then assured Willow that she would do what was best for her unborn baby, but told her to take care of herself as well.
Ava's advice seemed to have a profound effect on Willow. While Michael Corinthos (Chad Duell) held her, Willow said she would do whatever was best for the baby. The fierce determination in Willow's voice confused Michael. However, he didn't question Willow about it and just hugged her.
General Hospital Spoilers – Discovering Leukemia Diagnosis
General Hospital spoilers reveal that Ava's sole focus is on the Esme situation. However, while poking around and trying to find answers, Ava could come across another secret. It's possible that Ava might find out about Willow's leukemia diagnosis before others do. With Ava and Willow sharing an unexpected warm moment, could this be the beginning of the two forming a bond?
GH Hospital Spoilers – Exposing Carly Corinthos?
It's possible that Ava could also discover Carly's secret, which is that Willow's biological mother is Nina Reeves (Cynthia Watros). This could reignite Carly and Ava's feud, as well as heal the rift between Nina and Willow.
Do you think that Ava will end up finding out about Willow's leukemia diagnosis? Could Willow lean on Ava as she figures out how to deal with this situation while pregnant? Could it set up Ava to find out about Carly's secret and what does that mean for Willow as well as Nina? Share your thoughts and remember to keep watching the ABC soap to see what happens next.
Be sure to catch up on everything happening with GH right now. Come back here often for General Hospital spoilers, news, and updates.