DOOL Spoilers: Chad's Surprise Offer, Stephanie Wants To Hire Him?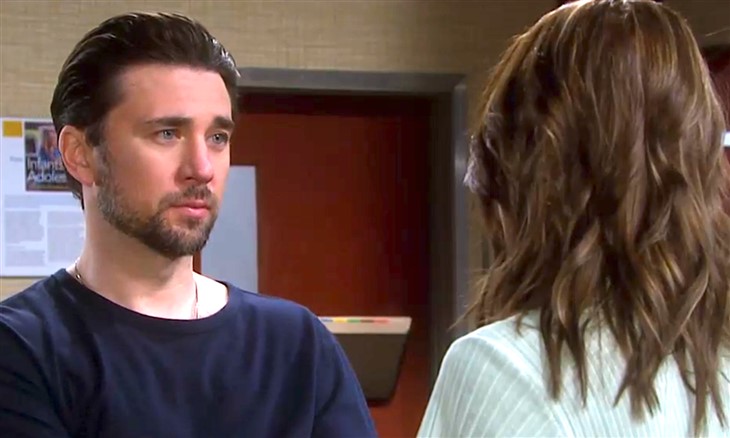 Days of Our Lives spoilers and updates tease that after really hitting it off with Stephanie Johnson (Abigail Klein) Chad DiMera (Billy Flynn) gets a surprise job offer. Might Stephanie want to hire him for her marketing agency she's currently doing a Titan Industries job for?
Days Of Our Lives Spoilers – Chad DiMera's Been Out Of Work
Chad's been out of work since before Abigail DiMera (Marci Miller) was murdered, having had a falling out with his brother EJ DiMera (Dan Feurreriegel) who fired him. There is a slight possibility that since EJ and he made up, EJ saving his life from Clyde Weston (James Read), he may consider rehiring him at DiMera. However, considering that he just hired their other brother Stefan DiMera (Brandon Barash) for Chad's former position, it's not likely, and besides, the DiMera mansion is too difficult to handle now.
Sonny Kiriakis (Zach Tinker) also had offered him a position at Titan, but then his older brother Alex Kiriakis (Robert Scott Wilson) stole it out from under him. So, it seems likely that the unexpected job offer might come from Stephanie.
DOOL Spoilers – Family Ties
Days of Our Lives spoilers show Chad and Stephanie aren't related, but they do have family ties by Stephanie being Abigail's cousin, with Jack Deveraux (Matthew Ashford) being Steve Johnson's (Stephen Nichols) brother. Stephanie and Chad are becoming closer, and even closer when they go drinking together at the end of the week, possibly in celebration of his new job or a business success. But the family ties and their becoming fast friends most certainly have something to do with the job offer, which he most certainly will accept. Chad needs work to occupy his heart and mind, even though he has had some closure over Abigail's death; he has two little mouths to feed too.
Days Of Our Lives Spoilers – It's Different
A marketing job is different from anything Chad has been worked at before, but he is adaptable; it's still a business, and he's a businessman. He's a smart guy and a fast learner, so it won't be difficult for him to learn the ropes, and having worked for Titan Industries before gives him an edge. He's familiar with all the players, with the exception of Alex, who just recently moved back to town, and Victor Kiriakis (John Aniston) trusts him.
Chad has been friends with Sonny for years and since it looks like Stephanie will stick around Salem too, there's a possibility her marketing agency might become a marketing department. That would suit Chad just fine if Titan buys out Stephanie and they run the new Titan Industries marketing department together.
Be sure to catch up on everything happening with DOOL right now. Come back here often for Days of Our Lives spoilers, news, and updates.