Days Of Our Lives Spoilers: Sonny's War, Justin's Relationship With Son Crumbles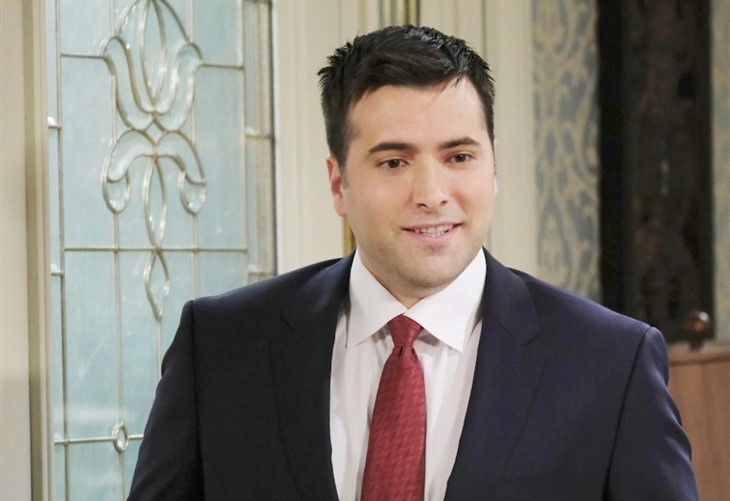 Days of Our Lives spoilers reveal that Sonny Kiriakis (Zach Tinker) returns to Salem. Even though Sonny and Will Horton (Chandler Massey) get involved in Craig Wesley (Kevin Spirtas) and Leo Stark's (Greg Rikaart) storyline, that's not the only issue. Sonny has a serious problem with Justin Kiriakis (Wally Kurth). Can the father and son repair their fractured relationship?
Days Of Our Lives Spoilers – 'WilSon' Return to Salem
DOOL spoilers reveal that during the week of March 7, Will and Sonny return to Salem. The primary reason for Will and Sonny's return is unclear. What is known is that once they are in town, "WilSon" immediately gets wrapped up in Craig's love story.
Brady Black (Eric Martsolf) and Chloe Lane (Nadia Bjorlin) were dismayed to discover that Craig's boyfriend is Leo. Even though Brady and Chloe weren't able to convince Craig to break up with his lover, other Salemties will get involved. This includes Will, Sonny and Chad DiMera (Billy Flynn).
DOOL Spoilers – Sonny Kiriakis' War
Will gets to have a happy reunion with his grandmother, Marlena Evans (Deidre Hall). The two will catch up and Will probably expresses his gratitude that "MarDevil" is gone. There might also be some talk about Sami DiMera (Alison Sweeney), Lucas Horton (Bryan Dattilo) and EJ DiMera (Dan Feuerriegel).
Meanwhile, Sonny will likely run into his father. However, things might not go as well for the Kiriakis men as they do for Will and Marlena. In fact, it is teased that during the week of March 7, Sonny will be furious at Justin for marrying Bonnie Lockhart Kiriakis (Judi Evans).
Days Of Our Lives Spoilers – Bonnie Lockhart Kiriakis Struggles
Days of Our Lives spoilers reveal that many Salemites have accepted Bonnie. Even though Bonnie had a tough time proving she's changed, the former con artist eventually succeeded. One person that has done a complete 180 toward Bonnie is Steve "Patch" Johnson (Stephen Nichols).
Bonnie will probably try to convince Sonny that she has changed. Bonnie might insist to Sonny that she is truly in love with Justin and isn't in the marriage for the money. However, Sonny will have a hard time believing this, especially since Adrienne Kiriakis (also played by Evans) was his mother.
DOOL Spoilers – Forgiving Justin Kiriakis
It is suggested that Bonnie might continue to earn redemption in Salem. One way she might do that is by getting involved in Craig and Leo's story. It is teased that Bonnie will give Nancy Wesley (Patrika Darbo) a makeover.
However, it is expected that Bonnie might also investigate Leo on Nancy's behalf. If there is anyone that could play a player, it's Bonnie. However, will that be enough for Sonny to forgive Justin for "betraying" Adrienne's memory?
Be sure to catch up on everything happening with DOOL right now. Come back often for Days of Our Lives spoilers, news, and updates.