Days Of Our Lives Spoilers: Chloe And Brady Walk Into A Crazy Scene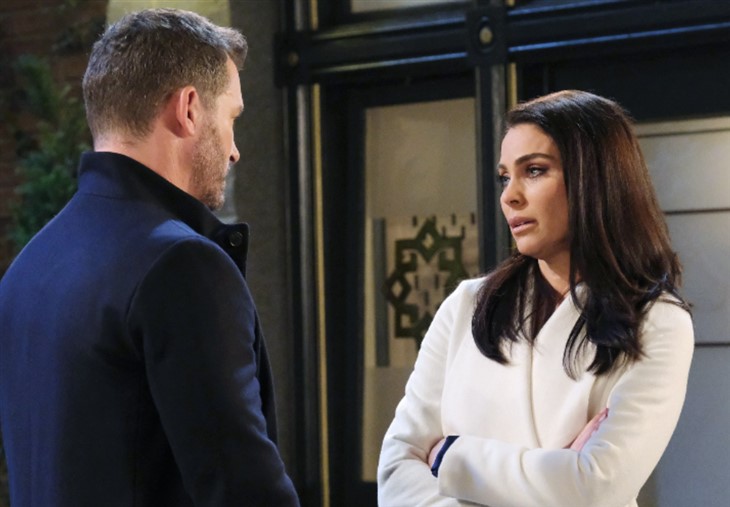 Days of Our Lives (DOOL) spoilers for Wednesday, June 29, 2022, reveal Shawn getting in way over his head and Brady and Chloe might need to bring him back to reality.
Days Of Our Lives Spoilers – Chloe Lane And Brady Black Are Stunned
The last thing Chloe Lane (Nadia Bjorlin) and Brady Black (Eric Martsolf) expected to see when visiting Shawn-Douglas Brady (Brandon Beemer) was him kissing Jan Spears (Heather Lindell) of all people. But it looks like all of Jan's lifelong dreams are coming true. She has Shawn's baby, she has Shawn's support, and she even managed to break up him and Belle without doing anything crazy or illegal — well, except last fall when MarDevil (Deidre hall) got to her.
Will Chloe and Brady be able to talk some sense into Shawn about what kind of woman he is dealing with here? Why isn't he trying to save his marriage? Jan Spears and this baby can't be worth giving all that up for, right? They even have to wonder if the devil is back because what the heck is going on here?
DOOL Spoilers – EJ DiMera – And Belle Black Get Super Serious
While Shawn kisses Jan, Belle Black Brady (Martha Madison) is very happy to be kissing EJ DiMera (Daniel Feuerriegel), a man who is still technically her brother-in-law, but at least he is not crazy, as far as she knows. And Belle was kissing EJ before Shawn ever kissed Jan, so Belle just goes for it and sleeps with EJ just after Sami Brady (Alison Sweeney)was there to present him with divorce papers.
There's no turning back now, right? This relationship has definitely been taken to the next level but will it go any further from here?
Days Of Our Lives Spoilers – JJ Deveraux Is Back
JJ Deveraux (Casey Moss) finally makes his way back to Salem after learning his beloved sister, Abigail DiMera (Maric Miller) is dead. The first place he goes is to see Chad DiMera (Billy Flynn) and he is determined to be a support to him, but also get to the bottom of who killed Abby.
With Chad and JJ working together, will they figure it all out? Poor Lucas Horton (Bryan R. Dattilo) thinks he did it, and while he probably didn't, will they suspect he did? Stay tuned to Days of Our Lives weekdays to see how these stories play out.