Days Of Our Lives Spoilers: Chanel Will Quickly Discover Something Is Wrong With Johnny!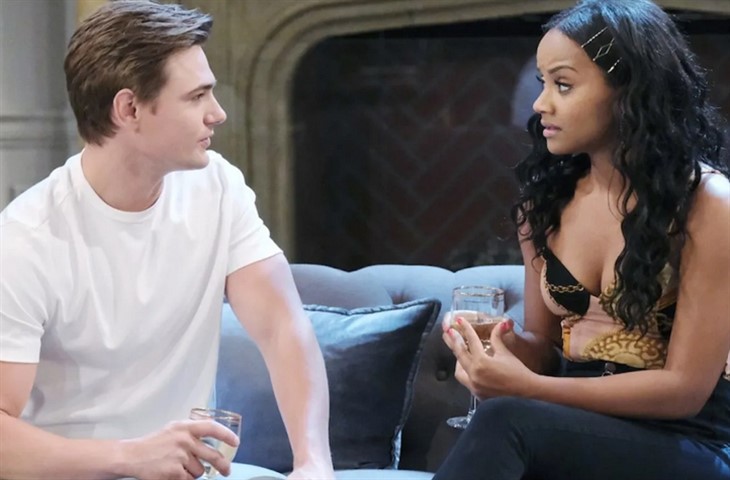 Days of Our Lives (DOOL) spoilers tease that the Devil had to leave Dr. Marlena Evans' (Deidre Hall) body after her family, led by Eric Brady (Greg Vaughn), drove the demon out of Marlena. With the whole town aware of Marlena's possession, the devil had little use for her. If he is going to complete his plans to take Ciara Brady's (Victoria Konefal), the devil will need to work in secret. So while everyone believes the devil is gone, he has actually taken refuge inside Johnny DiMera (Carson Boatman). The devil is free to resume his plan to take Ciara's baby without anyone suspecting the devil hasn't left Salem.
Days Of Our Lives Spoilers – Johnny DiMera Recently Married Chanel Durpris!
Chanel DuPris (Raven Bowens) needed to get away from Salem after she played a part in stopping her mother, Paulina Price's (Jackie Harry) wedding to Abe Carver (James Reynolds). Chanel was actually convinced by the Devil, who was still inhabiting Marlena's body at the time, to stop the wedding by revealing that Lani Price (Sal Stowers) wasn't Paulina's niece, but her daughter! Chanel's family was in chaos, so Johnny suggested they take a trip overseas. But no one was prepared when the couple returned home and revealed they are man and wife. Both of their families were unhappy in the beginning, but eventually came to realize that Johnny and Chanel are adults and free to make adult decisions.
DOOL Spoilers – Chanel Dupris Will Quickly Realize That Johnny DiMera Isn't Himself.
When he was inhabiting Marlena, the devil went to great lengths to keep her husband, John Black (Drake Hogetyn) in the dark. But John was wise to the devil's tricks, and Chanel eventually will be as well. The devil will try to tempt Chanel into joining him willingly, but she will refuse. So the devil will do whatever he has to in order to keep Chanel quiet. He may even tempt Chanel to have an affair with Allie Horton (Lindsay Arnold), Johnny's twin sister. Allie and Chanel are best friends but there is a sexual connection between them as well. Allie has started a relationship with Tripp Johnson (Lucas Adams), but there is obviously unresolved sexual tension between Allie and Chanel. Upset at the news of their marriage at first, Allie eventually came around and wished both Johnny and Chanel well. But Allie has no idea the danger Chanel and Johnny are in.
Days Of Our Lives Spoilers – What Do You Think?
Will the Devil be able to hide inside Johnny without detection? Or will Chanel discover her husband is possessed? Will Chanel find herself in more danger than she deal with? Anything can happen in Salem so stay tuned to Days of Our Lives airing weekdays on NBC. And don't forget to check back right here regularly for all your Days of Our Lives news, information and spoilers!