B&B Spoilers: Is Sheila Carter Beyond Redemption?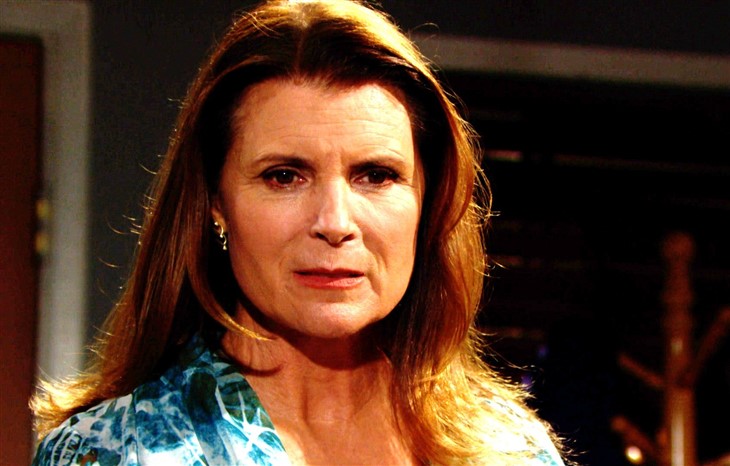 The Bold and the Beautiful (B&B) spoilers show that Sheila Carter (Kimberlin Brown) has done terrible, terrible things. Just within the last few months, she has shot John 'Finn' Finnegan (Tanner Novlan) and Steffy Forrester (Jacqueline MacInnes Wood), left Li Finnegan (Naomi Matsuda) for dead, faked her own death, chopped her own toe and has been using Deacon Sharpe's (Sean Kanan) home as a hideout.
Not just that though, we've also witnessed her break into Finn's home and pick up his child while he was in the other room! What in the world is wrong with this lady? A few too many knocks on the head? To make matters worse, she is now masquerading around in a rubber mask and fake glasses.
The Bold And The Beautiful Spoilers – Spoilers – Is There A Chance At Redemption For This Character?
No. Let me be clear. NO. I don't believe there is ANY way that Sheila can be redeemed. Now, you may be asking, "yeah, but look at a bunch of these other characters that have done bad things. Even Thomas Forrester (Matthew Atkinson) is getting another chance."
Let me reiterate. Sheila shot at least two people, left another for dead, and has been breaking and entering people's homes. She belongs in jail, and that's about it. If they do try to redeem Sheila, it's going to feel half-hearted and people aren't going to feel any better about what she's done to some of their favorite characters.
B&B Spoilers – Life After Sheila Carter
I think the sooner we get rid of Sheila, the better. Everyone will be able to move on with their lives and not have to worry about a masked Sheila Carter breaking into their homes. However, on the flip side, if Sheila is gone, so is 80% of the drama on the show.
This storyline has been the most exciting thing to happen in a while, otherwise, we would be stuck with 30 minutes of Ridge Forrester (Thorsten Kaye) trying to decide between Brooke Logan (Katherine Kelly Lang) and Taylor Hayes (Krista Allen) like we already have for the last three decades.
At the end of the day, we need Sheila, but there is no way they can redeem her character after what she's done, right?
What do you think? Would you rather see Ridge with Taylor and Brooke and why? Will seeing Brooke and Bill embracing change his mind about her and push him back towards Taylor? Let us know in the comments below.
Be sure to catch up on everything happening with The Bold and the Beautiful right now. Come back here often for The Bold And The Beautiful spoilers, news, and updates.