B&B Spoilers: Hope's Discovery, Steffy Pries Truth Out Of Liam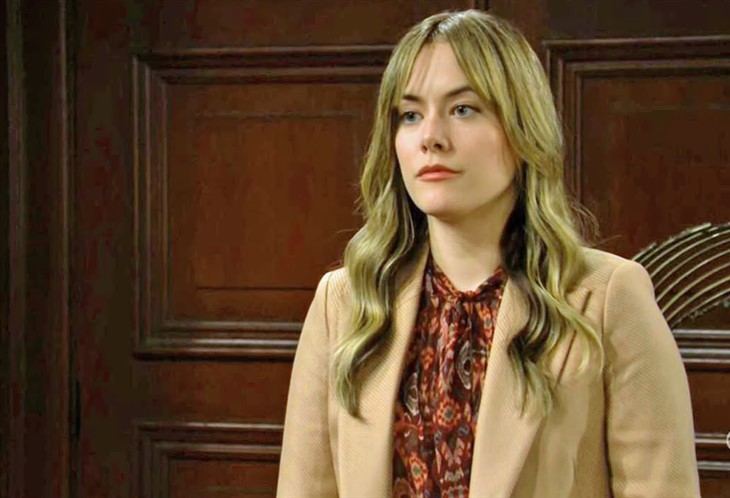 The Bold and the Beautiful (B&B) spoilers reveal that Liam Spencer (Scott Clifton) will help Hope Logan Spencer (Annika Noelle) learn the truth. When "Lope" figures out that something happened between Brooke Logan Forrester (Katherine Kelly Lang) and Deacon Sharpe (Sean Kanan), they could face a moral dilemma. Will Brooke beg them to lie and will they agree?
The Bold And The Beautiful Spoilers – Hope Logan Spencer's Investigation
B&B spoilers reveal that Hope is utterly perplexed. Hope doesn't understand why Deacon has seemingly vanished from her life after New Year's Eve. Meanwhile, Hope is also trying to help support Brooke as she recovers from her relapse, which occurred on New Year's Eve.
Hope is beginning to think the two events are related. However, Hope has no idea that Deacon and Brooke shared a kiss… as well as a bed!
B&B Spoilers – 'Beacon' Bombshell
During the week of January 17, Hope will discuss "Beacon" with Liam. Hope knows that there has to be some connection between the timing of Brooke's relapse and Deacon going MIA. Hope has tried to discuss it with her mother. However, Brooke isn't giving Hope any answers.
As the week progresses, Hope and Liam will come to a conclusion about Brooke's relapse. It is teased that they will figure out that Deacon and Brooke drank together. "Lope" might even speculate that something more could have happened, which would explain why Deacon is suddenly banned from Brooke's home.
The Bold And The Beautiful Spoilers – Brooke Logan Forrester Begs
The Bold and the Beautiful spoilers reveal that Hope will demand the truth from her mother. Hope will back Brooke into a corner and discuss all of the evidence that is leading her to the "Beacon" conclusion. Brooke is already beginning to crumble under the pressure of keeping this big secret. With Hope adding more pressure and demanding the truth, Brooke will probably blurt out the truth.
If and when that happens, Brooke will probably beg Liam and Hope to keep her secret. Brooke is terrified of losing Ridge Forrester (Thorsten Kaye). She knows that Ridge will definitely walk away from the marriage if he knows what really happened on New Year's Eve.
B&B Spoilers – Moral Dilemma
Liam and Hope will be put in a tough position. Hope will be determined to protect her mother, even if it means lying through her teeth. Hope pressures Liam to keep quiet, but he's not a very good liar.
Ridge didn't tell Steffy Forrester Finnegan (Jacqueline MacInnes Wood) and Thomas Forrester (Matthew Atkinson) about Brooke's relapse in Friday's episode. However, the siblings know that Brooke and Ridge are going through something. So, Steffy could turn to Liam to find out the truth. Will Liam really be able to lie to Steffy's face, or will she get the truth out of him.
Be sure to catch up on everything happening with B&B right now. Come back often for The Bold and the Beautiful spoilers, news, and updates.