B&B Spoilers: Douglas Betrays Brooke, Tells Thomas Scandalous Secret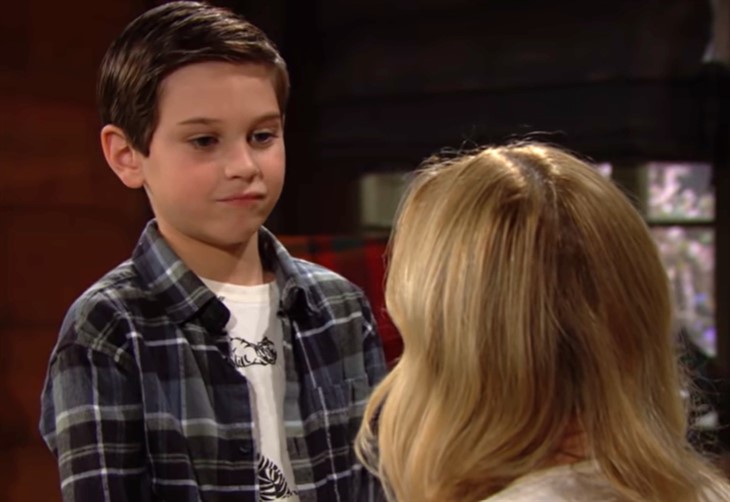 The Bold and the Beautiful (B&B) spoilers reveal that Brooke Logan Forrester (Katherine Kelly Lang) demanded Douglas Forrester (Henry Joseph Samiri) come home immediately. Hope Logan Spencer (Annika Noelle) did as her mother asked. However, Douglas won't keep his promise to Brooke. He ends up telling Thomas Forrester (Matthew Atkinson) the whole scandalous truth.
The Bold And The Beautiful Spoilers- Ridge Forrester's Confusion
B&B spoilers reveal that Brooke completely lost it when she learned about Douglas spending time with Thomas. Then, Brooke panicked even more when she learned Douglas and Thomas were with Steffy Forrester Finnegan (Jacqueline MacInnes Wood) and Ridge Forrester (Thorsten Kaye).
Meanwhile, Douglas was telling Ridge, Thomas, and Steffy about granny kissing Santa Claus. At first, everyone thought Douglas was talking about the Christmas song. However, Douglas insisted that it wasn't the song, wasn't a story, and it didn't come from his imagination.
B&B Spoilers – Visit Cut Short
Back at the cabin, Brooke begged Hope to call Thomas and have the child brought home immediately. Hope had a hard time explaining why Douglas needed to come home that instant. Hope only said there was a conflict and things were "crazy" right now. One Thomas brought the child back to Hope's cabin, that is when Brooke asked to speak with Douglas alone.
The Bold And The Beautiful Spoilers – Brooke Logan Forrester's Plea
The Bold and the Beautiful spoilers reveal that Brooke tried to persuade Douglas to just forget about what he saw. Douglas is a smart kid and knows Brooke was asking him to omit the truth, which is the same as lying. Douglas agreed, but he will struggle to keep this secret. Douglas won't be able to hold the truth inside for long, though.
B&B Spoilers – Thomas Forrester Stunned
On Monday, January 24, Thomas is stunned by what Douglas tells him. Douglas relays the entire scandalous story about New Year's Eve. Douglas explains that he was looking for his stuffed rabbit, which he left at Brooke's house. Then, he looked in the window and saw grandma kissing Santa Claus.
Thomas will be shocked and will comfort Douglas. The last thing Thomas wants is for Douglas to feel guilty or that anyone will be upset with him. Douglas might even tell Thomas that Brooke told him to keep it a secret. That will be a big red flag that something did happen. When Thomas shares this information with Steffy and Ridge, Brooke's entire life will fall apart.
However, can she persuade Ridge to not leave her? How will she explain kissing Deacon Sharpe (Sean Kanan) and that nothing happened even though he spent the night? Will Ridge believe his wife, or is this the end of "Bridge?"
Be sure to catch up on everything happening with B&B right now. Come back often for The Bold and the Beautiful spoilers, news, and updates.