Y&R Spoilers: Things Turn Dangerous For Mariah – Victor Suspicious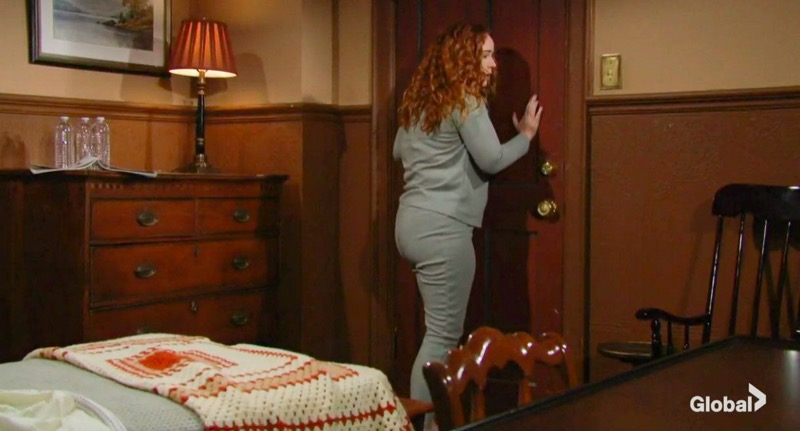 The Young and the Restless (Y&R) spoilers for Thursday, August 19, 2021, reveal Tessa learning something alarming about Mariah.
The Young and the Restless Spoilers: A Clue To Mariah's Whereabouts?
Now that at least Sharon (Sharon Case), Rey (Jordi Vilasuso), and Tessa (Cait Fairbanks) are in a panic about Mariah (Camryn Grimes), we might be getting someplace. Perhaps clues will start to come together and they will find her before she loses her mind. After all, she's been alone in a room for weeks with nobody but the baby she is carrying to talk to. She has no idea what might happen to her and is terrified — and so are her loved ones.
As Adam (Mark Grossman) offers his support and help and Rey keeps running into brick walls, Tessa comes to Sharon with something she found that terrifies her. Does she realize that she was kidnapped? And will what she found point them in the right direction to find Mariah? After all, she's already missed a doctor's appointment and is getting closer to her due date. Things are becoming dire for Mariah.
Y&R spoilers also say that Nick (Joshua Morrow) is keeping a secret? Does it have to do with the Sharon side of his life or the Phyllis (Michelle Stafford) side of his life?
The Great Victor Newman Needs To Know All
While Victor acts like he has completely accepted Ashland in his daughter's life and claims he is looking forward to this big wedding, he remains suspicious about this man who might become his son-in-law. Something still doesn't seem right about his entire situation and he wonders if Ashland is pulling the wool over Victoria's eyes. After all, he knows how his daughter loves to jump into relationships. She nearly married a man she met in a bar a few years ago and that definitely didn't turn out well. Victoria has been getting married since she is a teen and keeps having failure after failure.
To that end, Victor starts a thorough investigation into Ashland Locke's life? What will turn up? What skeletons might be in his closet? And, is he really dying? Enquiring minds want to know. Stay tuned to The Young and the Restless weekdays to see how these stories play out.