The Young And The Restless (Y&R) Spoilers: Nick and Adam's Brother Bond Established – Alliance Long Overdo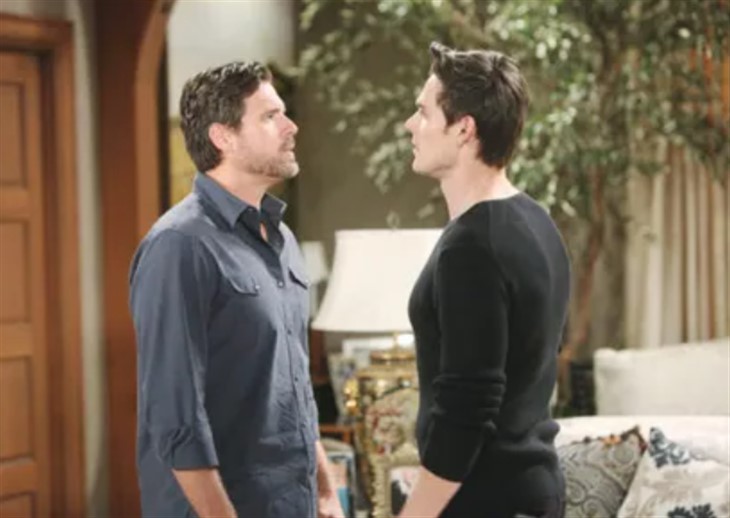 The Young and the Restless (Y&R) spoilers document that Nick Newman (Joshua Morrow) and Adam Newman (Mark Grossman) are focused on one mutual objective. They want to help Faith Newman (Reylynn Caster) and so they've at least temporarily put their sibling rivalry aside.
A soapy tornado delayed Nick's attempt to quickly return to Genoa City, Wisconsin, with his brother. But the destruction that the massive weather event caused at the Montalvo home in Kansas did allow an unexpected bond to potentially form. It's now also become possible that a new Newman alliance is developing as well.
Young And The Restless Spoilers – Adam Newman Can Change
Adam thought that he would stay at his childhood friend's home for an undetermined period of time. His plan wasn't well thought out or executed.
His cryptic tell to Sharon Rosales (Sharon Case) tipped her off. She passed along the intel when asked, and Victor Newman's (Eric Braeden) private detective did the rest.
Nick found Adam, who initially resisted the unexpected discovery. But what happened after the tornado hit increased optimism that a different take on this legacy character is being presented.
Y&R Spoilers – Nick Newman Is Grateful
This time feels different. Nick seems to be more than just grateful that his long loathed brother is willing to donate a kidney. Morrow's character was also moved that Adam brought firefighters and an ambulance to the Montalvo house.
Adam could have taken off for parts unknown. He also could have alerted rescue personnel, without accompanying them. Adam did neither.
For once, in an adult life that's painted as disjointed by all his enemies, Adam did what was right. As a result he might be building the start of a good relationship with his brother.
The Young And The Restless Rumors: Justin Hartley And Sofia Pernas Married? https://t.co/aqorVE34W0 pic.twitter.com/jmnQWyaeis

— SOS/CTS/HH (@SoapOperaSpy) May 6, 2021
The Young And The Restless Spoilers – Victor Newman's Hope Realized?
Victor has believed more strongly in Adam during these months than nearly at any time since he returned to GC in 2008, as the adult SORAS'd (soap opera rapid aging syndrome) edition of this character. He believes Adam is not only innocent of poisoning Rey Rosales (Jordi Vilasuso) but has turned a personal corner.
Nick thought Adam wasn't capable of redemption. But he is, as Victor, Sharon, and the fans know.
Adam become a saint? No. But can Y&R's writing staff broaden the storylines that Grossman works? Yes, this great actor can handle anything. So, here's hoping that a fresh projection of Adam is unfolding in daytime.
SOS is a leading source for everything linked to The Young and the Restless. Check back regularly for Y&R spoilers and news!