B&B Spoilers: Donna Sinks Her Claws In To Eric Forrester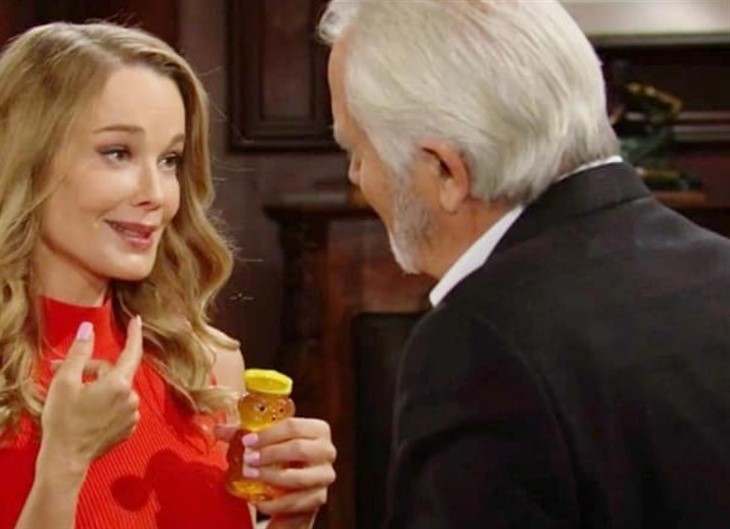 The Bold and the Beautiful spoilers document that Eric Forrester (John McCook) did not expect to learn that Donna Logan (Jennifer Gareis) still loved him. He was also pleasantly surprised that this former ex-wife's unexpected expression appeared to resolve his health issue.
This interesting turn of events could mean that Queric is not as solid as its detractors believe. However, Brooke Logan Forrester (Katherine Kelly Lang) has remained optimistic. She is convinced that her sister's unique appeal can be a game-changer on B&B.
The Bold And The Beautiful Spoilers – Quinn Fuller Is The Aggrieved Party?
Wouldn't it be soapily ironic if Quinn Fuller (Rena Sofer) comes to experience what Eric did? Imagine if she learns that Eric has rekindled a romance with Donna?
McCook's character was deeply hurt when he learned about Quarter. But he responded by exhibiting his legendary trait of forgiveness. Quinn was as stunned as all connected characters and the audience.
Of course, Eric decided that Quinn and Carter should retain their connection because he was harboring a secret that caused him shame. He should have shared his ED problem with Quinn many months ago but did not.
B&B Spoilers – Eric Forrester Is At Fault And Knows It
Truth be told, Eric created the distance between himself and Quinn. Then, he compounded that mistake by endorsing Quarter.
Yes, Quinn and Carter acted with reckless selfishness when using Eric's wishes as an excuse to continue seeing each other. However, Eric's request presented pity pressure. Both halves of Quarter were confused and found the situation to be incomparable to any past dilemma.
Eric knows that Quinn is not solely or even mostly responsible for this particular marriage problem. But will that knowledge prevent him from becoming involved with Donna?
The Bold And The Beautiful Spoilers – Donna Logan Deserves Strong Screen Time
Gareis is a fine actor. She is deserving of a full storyline, rather than having her character play a secondary role.
Donna adds sweetness to the show. Paring her with Eric would allow McCook to play within a refreshed dynamic.
The suggested Deric reboot would also allow Sofer, who has performed terrifically, to develop her character to an even greater degree. Saint-Victor's stellar work would be furthered and fans could continue learning more about Carter than they arguably ever have before.
Donna can become the renewed star in Eric's life. It is plausible for him to fall back in love with the woman who still considers him to be her eternal honey bear.
This site is a leading source for everything linked to The Bold and the Beautiful. Check back regularly for B&B spoilers and news!