The Bold And The Beautiful (B&B) Spoilers Wednesday, May 12: Zoe's Utter Devastation – Shauna Happy For Quinn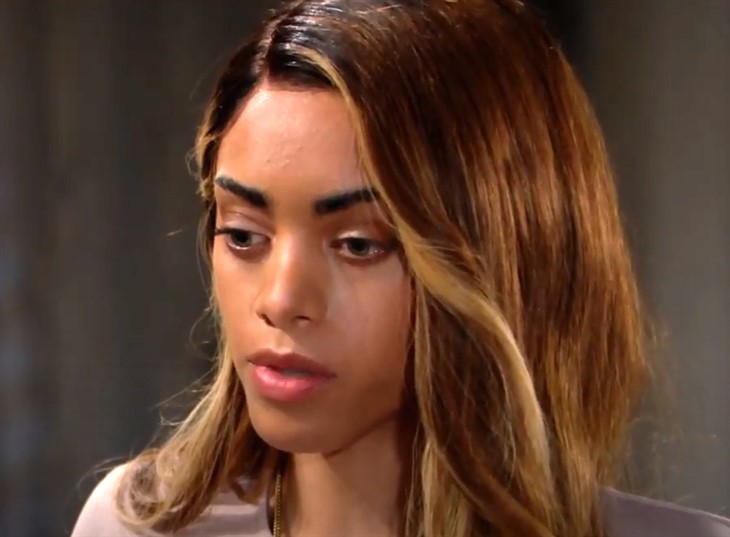 The Bold and the Beautiful (B&B) spoilers for Wednesday, May 12, 2021, reveal Zoe not willing to give up on the man she thinks of as the love of her life.
The Bold And The Beautiful Spoilers – What Will Zoe Buckingham Do Now?
Zoe (Kiara Barnes) couldn't believe it when she walked in on Carter (Lawrence Saint-Victor) in bed with another woman, but at least she didn't see who that other woman was or she'd lose it over Quinn (Rena Sofer) betraying her like that.
Carter explained that he's moved on and that it's apparently none of Zoe's business with whom he's moved on. He's a grown man and can handle things.
Well, Zoe does not want to give up. She needs to win Carter back because that's now her latest obsession. To what lengths will she go to achieve this and how will she react when she does finally learn the truth?
Will this be what leads to Zoe's exit as Kiara Barnes is indeed leaving the show? Might Zoe do something illegal that sends her to prison (a place she averted when she was an accessory in Beth's kidnapping) or will she do something dangerous that gets her killed? And will she involve Paris (Diamond White) in whatever harebrained scheme she comes up with? The two sisters seem to have moved on and agreed to support one another in their romantic endeavors.
The Bold And The Beautiful Spoilers: Quinn And Carter Get More Playful, But Affair Gets Messyhttps://t.co/Ieyhk8YAqn

— SOS/CTS/HH (@SoapOperaSpy) May 11, 2021
B&B Spoilers – Shauna Fulton's Got Her Friend's Back
Meanwhile, Shauna (Denise Richards) seems pretty darn impressed with Quinn getting something she needs when Eric (John McCook) is unwilling to provide it. She is determined to keep Quinn's affair a secret from Eric and comes up with a plan to help her BFF.
Shauna is ready to do something very daring to protect Quinn but will it backfire on her? Does it involve Eric and will this be something that is beneficial to her and to Quinn? Remember, she was developing feelings for Eric for a little while but knew he was Quinn's husband and that she needed to leave him alone? With Quinn having her eyes and other parts of herself focused on Carter, perhaps Shauna could focus on Eric. Stay tuned to The Bold and the Beautiful weekdays to see how these stories play out.