The Bold And The Beautiful (B&B) Spoilers: Liam Lives On Borrowed Time – Bill Tips Authorities Off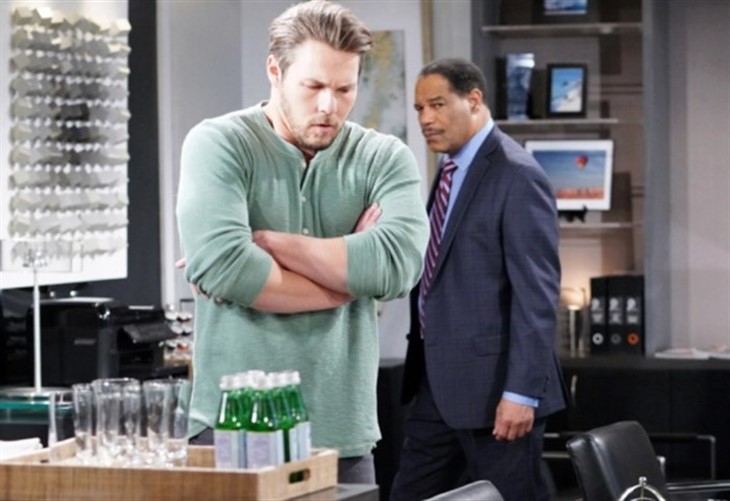 The Bold and the Beautiful (B&B) spoilers document that Liam Spencer (Scott Clifton) is willing himself forward. At least he's gotten out of his father's house and is back at the cabin. Hope Spencer's (Annika Noelle) offer for him to move home also appears to represent progress, instead of a potential mind trap.
Liam sees trouble ahead and he should. Killing a man and then having Deputy Chief Bradley Baker (Dan Martin) shows up at his place of employment isn't a good sign. Of course, having Bill Spencer (Don Diamont) tip the authorities off, by saying that his son isn't a murderer, is another foreshadowing of doom.
The Bold And The Beautiful Spoilers – Dollar Bill Spencer Plays It Cool
Bill believed that he was playing it cool when Deputy Chief Baker arrived at his office. Katie Logan (Heather Tom) was there, with hope for a Batie reunion being furthered by the latest hopeful conversation this should-be couple was having.
Diamont's character assumed that the Deputy Chief was there to talk about the annual law enforcement fundraiser, but he wasn't. Dollar Bill emerged as soon as the conversation turned to Vincent Walker (Joe LoCicero).
The lies Bill told can be used against him if the authorities are later able to find evidence of his cover-up. The weak link could prove to be Liam's conscience.
B&B Spoilers – Flashbacks And Flash-forwards Continue
When Liam's mind grabs at the night in question he's likely suffering from post-traumatic stress disorder. Who wouldn't be traumatized when an object suddenly appears on the road at night, a thud is heard, and death is discovered?
The impact was Vinny being struck by Bill's sports car. He lived for a few minutes after that happened and seemingly wanted to talk, but couldn't mouth words before he expired.
The hyper images have and will continue to torment Liam's already sensitive soul. That telegraphs into him eventually telling Hope what happened, inadvertently revealing the tragedy, or unknowingly spilling the soapy beans to an inconvenient person, like Thomas Forrester (Matthew Atkinson).
The Bold And The Beautiful Spoilers: Hope Logan's Choice – Crazy Thomas Or Killer Liam? https://t.co/lacL7Ln2co pic.twitter.com/O0Z20VKPyl

— SOS/CTS/HH (@SoapOperaSpy) April 29, 2021
The Bold And The Beautiful Spoilers – Wringing Out The Tension
Of course, this thriller can't be solved quickly, as it's not a standalone movie. Instead, B&B's writing staff will drag the plot a bit and probably throw in a twist.
Executive producer Bradley Bell described this storyline as a mystery, which could mean that the audience doesn't know all. Then again, the mystery tag could simply represent the authorities' search for the truth that will likely be uncovered this spring.
Soap Opera Spy is a leading source for everything linked to The Bold and the Beautiful. Check back regularly for B&B spoilers and news!