Savannah Chrisley Partners With Feat In Limited Edition Athleisure Wear
Savannah Chrisley constantly churns out new products with her Sassy by Savannah cosmetics. Plus, USA Network fans heard about new fragrances. Rolling on a high ahead of the new Chrisley Knows Best season, she announced a new partnership. She hooked up with Feat and this week, a limited edition collection becomes available.
Savannah Chrisley Fans Seem Amazed By Her Beauty And Drive
It looks like Todd's daughter throws her entire being into new projects. These days, fans see her tirelessly work at promoting and producing her Sassy by Savannah products. Initially thought to compete in too big a market, she nevertheless regularly runs out of products that require news stocks. Clearly, the Chrisley Knows Best start hit a winner there. Recently, news emerged that she also launches a new line of fragrances. Many fans said they definitely hope to buy it when it drops.
Savannah Chrisley looks after herself and many fans feel obsessed with her beauty. Day after day, she rolls out photos of herself wearing her own products and some excellent fashion. Actually, she probably couldn't find a better model than herself, although she sometimes uses other people for that. People respect her because she never denied her vulnerabilities, but she pushes herself out of her comfort zone and that gives other people confidence. So, there might be a rush of customers with her new limited edition collection.
Feat And Savannah Chrisley Limited Editon
Taking to Instagram on July 12, the Growing Up Chrisley star wore some lovely soft clothes. She told her fans, "On Cloud 9" right now!' Sooo excited for this collaboration with @feat 😏 Wednesday is THE day!!" Her followers congratulated her and one of them said, "I'm so proud of you! You've come a long way! Congratulations 🍾 you deserve this && much more!"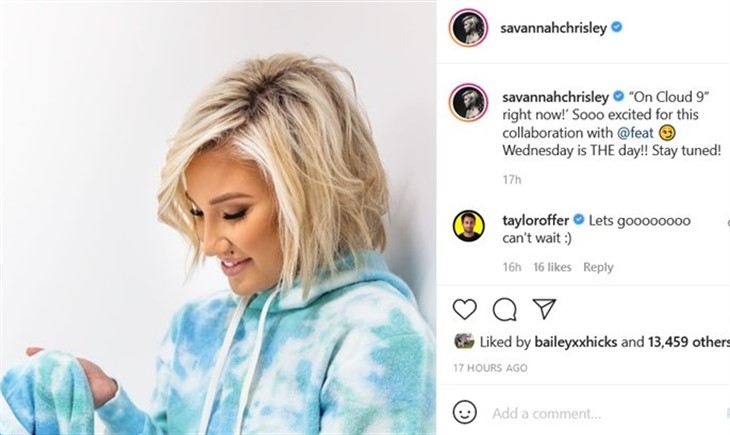 Meanwhile, some fans of Savannah Chrisley asked if the new line was sleepwear. Well, over on Feat's Instagram, they explained that they produce athleisure clothing. Their profile adds, "Experience our BlanketBlend® TreeCell® & FlowTech® fabrics." The photo that they shared showed a bit more detail of the outfit that Savannah modeled. They noted, "FEAT x Savannah Chrisley sets are dropping in 2 days!💙 This is a limited edition capsule collection that won't be restocked — so don't miss it! Wednesday, 7/14 @ 9am PST." Fans seemed very taken with the baby blue and white outfit that looked so soft and warm. It looks like buyers already consider the product. One of them noted, "Great colors!!! Excited to add this to my collection!."
New Seasons Come Along In August
Savannah Chrisley and the rest of her family return with both of their shows on August 12. The shows air on the USA Network and will follow each other back-to-back on Thursdays.
Remember to check back with us often for more news and updates about Savannah Chrisley from USA Network's Chrisley Knows Best and Growing Up Chrisley.