GH Spoilers: Laura and Sonny Discuss How To Handle Spencer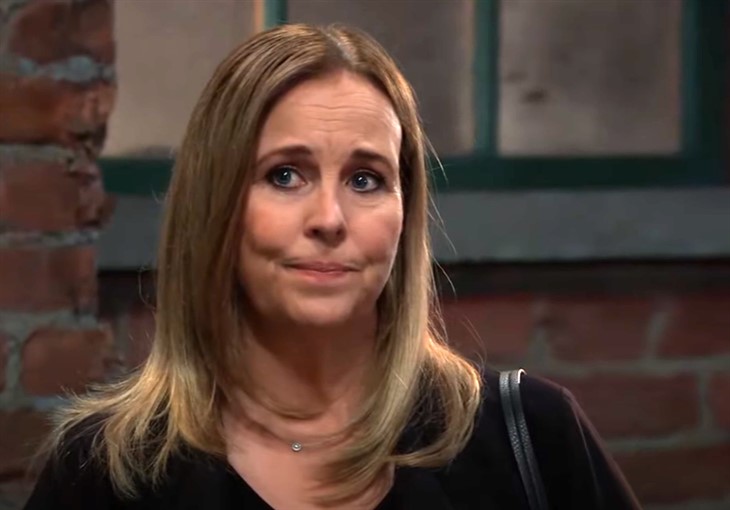 General Hospital Spoilers tease that Mayor Laura Collins (Genie Francis) will have a lot on her plate once she finally returns to Port Charles. So much has happened in Port Charles, and not all of it was good. But one thing is for certain, Laura will be overjoyed to see her old friend Sonny Corinthos (Maurice Bernard) is alive and well. Look for the special friendship these two share to pick up right where things left off.
General Hospital Spoilers – Mayor Laura Collins Will Be Astonished At Sonny Corinthos' Story!
When Laura left Port Charles, Sonny was believed to be dead. In truth, Sonny had amnesia and was living in the small town of Nixon Falls under the name "Mike" the whole time. So as Sonny tells Laura where he had been all that time, look for Laura to listen with astonishment at Sonny's wild story. It will be a lot to take in, but in the end Laura will just be overjoyed that her friend is alive. But talk will then surely turn to Cyrus Renault (Jeff Kober).
GH Spoilers – Cyrus Renault Has Been A Threat To Both Mayor Laura Collins And Sonny Corinthos!
Sonny was gone before Laura found out that Cyrus is actually Laura's half-brother. Cyrus' last days in Port Charles were difficult for Laura to say the least. Cyrus ended up taking Laura hostage before Police Commissioner Jordan Ashford (Brianna Nicole Henry) was able to subdue him. But even prison couldn't stop Cyrus from putting a hit out on both Laura and their shared brother, Martin Grey (Michael E. Knight). In fact, that's why Laura has been away from Port Charles all this time. Her life was in danger. Look for Sonny to step in and try to stop Cyrus himself. Cyrus had been trying to take over Sonny's territory before he disappeared. So the two will likely bond further over their shared enemy.
General Hospital Spoilers – Spencer Cassadine Is Loved By Both Sonny Corinthos And Mayor Laura Collins!
Laura and Sonny will also likely discuss Spencer Cassadine (Nicholas Chavez). Laura has been out of town and wasn't there when Spencer was revealed as Ava Jerome's (Maura West) stalker. Nikolas Cassadine (Marcus Coloma) left Spencer believing he was dead for three years and that's what started Spencer's troubles. Look for Laura to assure Sonny that she will step in and try to fix what's gone wrong with her family, starting with Nikolas. These two will have much to discuss, but look for their reunion to be a happy one!
GH Spoilers- What Do You Think?
Will Laura and Sonny share a happy reunion? Or will talk of Cyrus ruin their meeting? Can they agree on how best to handle Spencer and Nikolas? Anything can happen in Port Charles so stay tuned to General Hospital airing weekdays on ABC. And don't forget to check back right here regularly for all your General Hospital news, information and spoilers!