GH Spoilers Friday, September 3: Surprises For Jason And Carly – Jax Grills Nina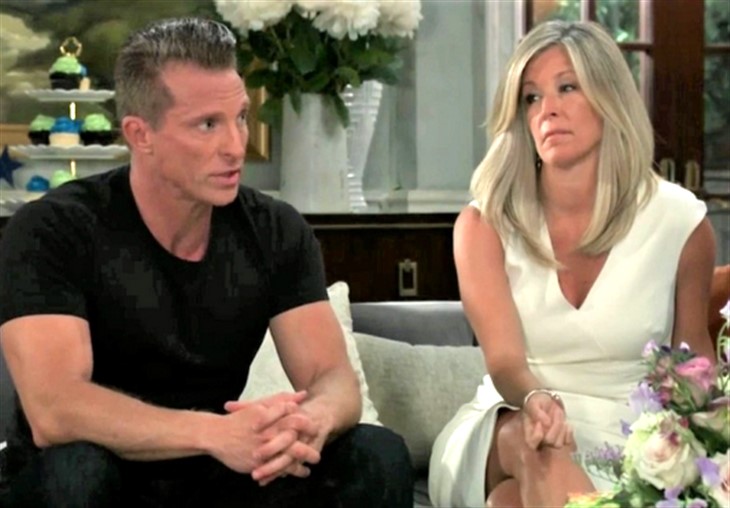 General Hospital spoilers for Friday, September 3, 2021, reveal in Port Charles, NY Jason and Carly getting ready to marry with some traditional affairs that might go all wrong.
General Hospital Spoilers – Time For Some Strippers?
The wedding might still be two weeks away in real time, but in Port Charles time, it's probably tomorrow. That must be why Jason Morgan (Steve Burton) has a bachelor party that is rudely interrupted. What could happen that could ruin this special night that doesn't seem to have very many guests.
As for Carly (Laura Wright), it looks like business partner Olivia Falconeri (Lisa LoCicero) decides to take care of the bachelorette party. We expect to see some comic relief as Carly starts to feel like a real bride, but she has no idea what her ex-husband Jax (Ingo Rademacher) is up to.
GH Spoilers – Nixon Falls News
Meanwhile, Sonny (Maurice Benard) and Nina (Cynthia Watros) see each other for the first time since she decided not to sleep with him until he finds out who he is. Smike wants to know if she's given that any more thought. Perhaps she has changed her mind. Perhaps she can also just TELL him who he is since she knows.
Even Jax thinks Nina knows Sonny is alive and is hiding him on the Pennsylvania side of the river. After all, he saw Sonny at the hoedown right after he was shot. Maybe he wasn't imagining it after all. So, he interrogates Ava Jerome (Maura West) and refuses to leave her gallery until she tells him what she knows about Nina's new man in Nixon Falls.
General Hospital Spoilers  – Sam McCall Needs To Know
Sam (Kelly Monaco) has a one-track mind right now. She wants to find Drew Cain (Cameron Mathison) and bring home Scout's dad but she needs all the help she can get to do it. To that end, she wants Curtis's (Donnell Turner) help, but when she visits him at The Bayou he seems distracted and wants her gone. What could be going on? Is he just waiting for Portia (Brook Kerr) to show up and doesn't need Sam around to ruin his hot date? We can see how she could do that. Stay tuned to General Hospital weekdays to see how these stories play out.