General Hospital (GH) Spoilers Thursday, August 12: What Will Ava Jerome Do With The Truth?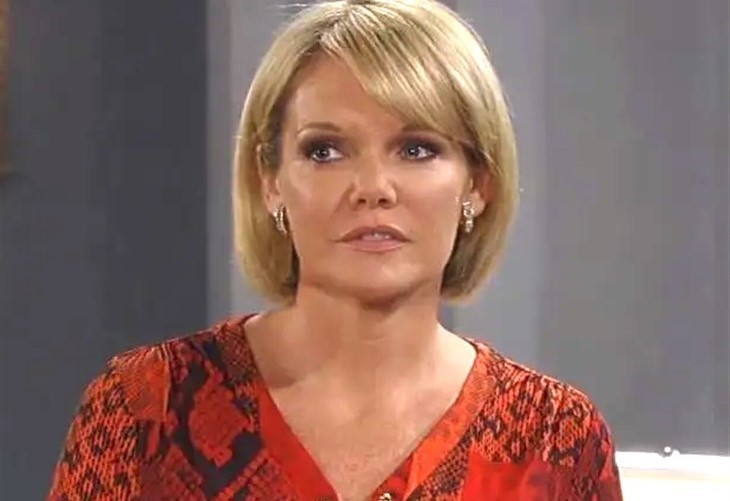 General Hospital (GH) spoilers for Thursday, August 12, 2021, reveal Ava learning her stepson set out to ruin her life. Will Spencer Cassadine learn that you never mess with Ava Jerome?
General Hospital Spoilers – Nikolas Cassadine Figures Out The Truth
Nikolas (Marcus Coloma) has suspected that Spencer's (Nicholas Chavez) sudden reappearance was just a little too fishy for a while now. He showed up just as Ava (Maura West) left and that couldn't be a coincidence after he told his father he would never return home while he was married to Ava.
The letter from Ryan (Jon Lindstrom) and the conversation he had with Spencer sealed things for him. Ava's stalker is his son and he did it to scare Ava into divorcing him. Nikolas informs Ava of this news and she is furious, to say the least. She wanted to believe this kid was a good kid especially since Trina (Sydney Mikayla) seems interested in him, but now she needs to rethink things.
What will Ava and Nikolas do with this information and will it in any way infringe on this party Spencer wants to throw at Wyndemere?
GH Spoilers – Carly Corinthos Tries To Feel To Bad That Jason Morgan Has To Marry Her
Donna called Jason (Steve Burton) "Daddy" and that's causing Carly (Laura Wright) to have all the feels. Sonny (Maurice Benard) is her Daddy and Jason didn't sign up to be a father all over again when he agreed to marry her. He just wanted to satisfy the Five Families — not Carly.
Now Carly is worried that this entire marriage of inconvenience might be putting too much pressure on poor Jason. She tells him he was the lesser of two evils, but which two evils is she talking about? There have been so many of them in her life through the decades.
Meanwhile, Nina (Cynthia Watros) and Sonny continue growing closer over on the Pennsylvania side of the river and Nina can see them both getting a happy ending.
Back in Port Charles, Britt (Kelly Thiebaud) can't see a happy ending just yet and laments to Jax (Ingo Rademacher) about Carly and Jason marrying.
General Hospital (GH) Spoilers Aunt Stella Henry Tries To Fix Things
Stella (Vernee Watson) feels terrible about everything she did to keep Jordan (Briana Nic- ole Henry) and Curtis (Donnell Turner) together and especially feels horrible for revealing Curtis and Portia's (Brook Kerr) previous affair to Trina. She apologizes to Portia and tells her she wants to start over and Portia feels optimistic that things might turn out ok. Stay tuned to General Hospital weekdays to see how these stories play out.