General Hospital (GH) Spoilers: Ava And Nikolas Receive A Threat From A Talking Teddy Bear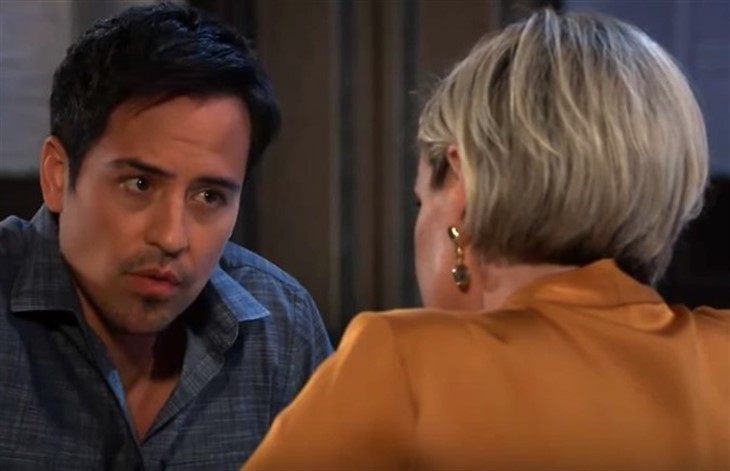 General Hospital (GH) spoilers tease that in this week's General Hospital Sneak Peek, the Cassadines receive a threat from a talking teddy bear! Ava and Nikolas Cassadine (Maura West, Marcus Coloma) are horrified to realize that Avery Jerome-Corinthos (Ava and Grace Scarola) talks, and sounds just like Ryan Chamberlain (Jon Lindstrom)!
General Hospital Spoilers – The Cassadines Thought They Were Safe At The Metro Court
General Hospital viewers will recall that the Cassadines thought they would be safe at the Metro Court, after Detective Dante Falconeri (Dominic Zamprogna) had advised they leave Spoon Island. However, the stalker has spies everywhere, and one of them is a bartender at the Metro Court! The stalker has been very obvious in suggesting that he might be Ryan Chamberlain (Jon Lindstrom), even though the Cassadines had been assured that Ryan would be unable to carry out anything like what they have experienced, due to "locked in syndrome".
However, they both have their doubts, because they wold not be surprised if Ryan was faking. General Hospital viewers will recall that smirk on his face as he was being wheeled out of General Hospital after being treated for a stab wound. Ava had even pinched him almost to the point of drawing blood and he had not flinched; however that could be his DVX training kicking in! The promo begins with Ava happily reporting to Nikolas that she thinks that Avery is enjoying their hotel adventure.
Nikolas is happy too, even though he worries about Ava. Nikolas tells Ava that as worried as he is about her, that whoever the stalker is, there is part of Nikolas that is really loving all of this time he is getting with Avery. Nikolas continues, telling Ava that Wyndemere is so big that he hardly ever gets to see Avery there. At the Metro Court suite, he feels as if the three of them are truly their own little family. Ava tells Nikolas that she does as well, and that it makes their exile from Spoon Island worth it.
GH Spoilers – Avery Jerome-Corinthos Runs In With A Teddy Bear-That Talks!
General Hospital viewers will recall that if Ryan is not behind the stalking of the Cassadine family, whoever it is certainly wants them to think he is! An excited Avery suddenly bursts into the room with a teddy bear, exclaiming that her bear can talk! Ava and Nikolas both take notice, and Ava asks Avery what the bear says, with Nikolas chiming in out loud "I love honey" in behalf of the teddy bear.
Avery demonstrates as she tells Ava and Nikolas to listen to the bear. The bear says it can't wait to be a family, but Ava and Nikolas are both horrified to hear Ryan Chamberlain's voice coming from the teddy bear! That would imply that Chamberlain wants to be a family with Ava and Avery, with Nikolas being the target! This is a definite confirmation that either Ryan is faking his locked-in syndrome, or someone has used a voice synthesizer to make the recording coming from the bear to sound like Ryan's voice!
But the scariest thing for Nikolas and Ava about this teddy bear who talks with Ryan Chamberlain's voice is how Avery got it and where she got it! They have not let her out of their sights and made sure if one of them was not with her, then someone they can trust would be with her!
Stay tuned to General Hospital, and keep checking General Hospital spoilers frequently for all the latest news, updates, and developments!