DOOL Spoilers: EJ's Violent Brawl, Unraveling As Life Spins Out of Control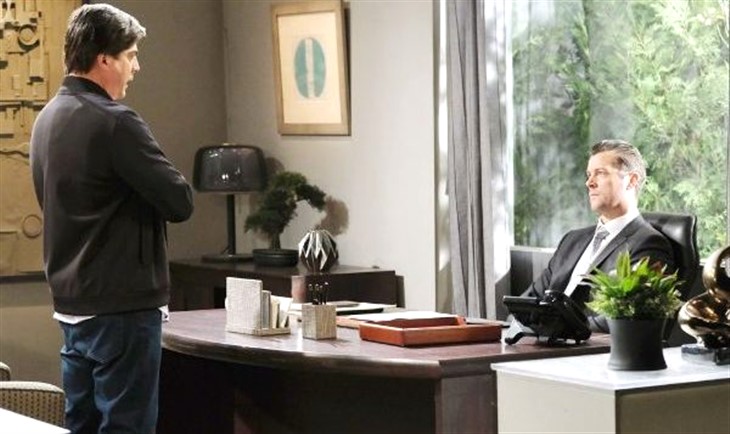 Days of Our Lives (DOOL) spoilers reveal that EJ DiMera (Dan Feuerriegel) is a man who is always in control. Not only does he control himself in public, but usually has control over the people closest to him. As his loved ones become independent and make their own decisions, EJ quickly unravels and gets into multiple altercations. One of those turns physical.
Days Of Our Lives Spoilers – EJ DiMera's Fierce Control
DOOL spoilers reveal that EJ is used to being in control of himself, as well as the people around him. This applies to both is personal and professional lives. When he returned to Salem, he thought it would be easy to get back the life he used to have all those years ago. However, he is finding that his life is quickly spiraling out of control. A big part of that is his need to control everything and everyone around him.
DOOL Spoilers – Sami DiMera's Betrayal
When EJ learned that Sami DiMera (Alison Sweeney) had an affair with Lucas Horton (Bryan Datillo), he had a violent fit. EJ was alone in his office with the door closed, so no one saw him lose control. By the time he went to have dinner with Sami, he had composed himself. Besides having to share the CEO position with Chad DiMera (Billy Flynn), it was one of the first signs that he had lost control.
Viewers did not see who kidnapped Sami, but there is good reason to believe EJ was behind it. Someone knew that Sami's loved ones were beginning to ask questions and suspect something was wrong. Everyone except EJ, of course. Then, that text message from "Sami" suddenly arrived and people stopped worrying. It was just a last-ditch effort to control Sami and the situation.
Days Of Our Lives Spoilers – Johnny DiMera's Defiance
Days of Our Lives spoilers reveal that Sami isn't the only one EJ has lost control of. EJ was excited when his son arrived. EJ assumed that Johnny DiMera (Carson Boatman) would join DiMera Enterprises and do what he was told. However, Johnny had other ideas and doesn't care if his father approves or not. EJ tried to control Johnny and the situation by taking away his access to money, credit cards and even trying to interfere in his romance with Chanel Dupree (Raven Bowens). No matter what EJ does, Johnny refuses to give up and bow down to him.
During the week of September 13, EJ and Johnny will butt heads about the movie once again. This time, EJ is going to explode with rage.
DOOL Spoilers – Fighting Xander Cook
Johnny isn't the only person that EJ gets into an altercation with during the week of September 13. Xander Cook (Paul Telfer) agreed to EJ's deal. The criminal charges have been dropped, so EJ wanted Sami's bribe money returned. The only problem is that Bonnie Lockhart (Judi Evans) stole it. So, Xander crashed her wedding and demanded it back, only to find out Bonnie was paying off her own blackmailer, Calista Lockhart (Cady Huffman).
If Calista is long gone, then so is the $1 million. There is speculation that Bonnie is arrested for murder and the victim happens to be her blackmailer. If this is true, then the money probably gets collected by the police and entered into evidence. EJ already completed his part of the deal, so he could go into a rage. The fact that he's also dealing with Johnny's defiance means EJ is already on edge. It is teased that EJ and Xander actually get into a physical brawl over it.
It seems that the less EJ can control the people and situations around him, the more unraveled he will become. What will he do next and could there be shocking consequences?
Be sure to catch up on everything happening with DOOL right now. Come back often for Days of Our Lives spoilers, news and updates.