Days Of Our Lives Spoilers: MarDevil Shows Her Devilish Spots – Sami and Nicole Throwdown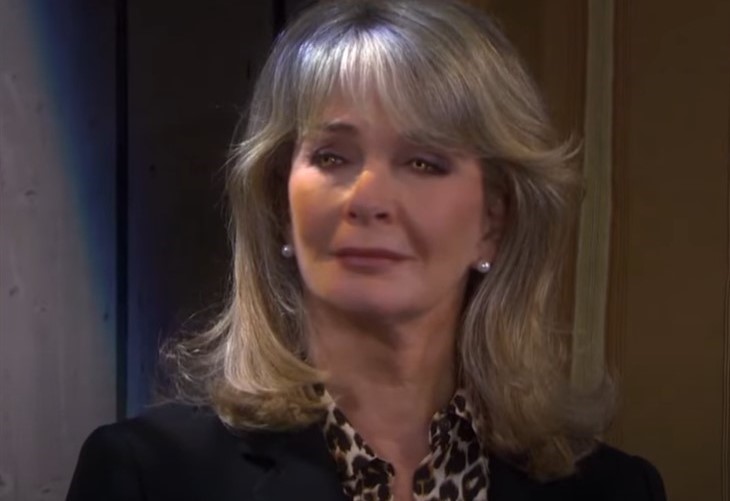 Days of Our Lives (DOOL) spoilers for Tuesday, December 14, 2021, reveal John Black getting ready to confront his possessed wife once again.
Days Of Our Lives Spoilers – Will MarDevil Be Cornered?
Now that John Black (Drake Hogestyn) realizes the devil came back to daytime to get his hands on Ben (Robert Scott Wilson) and Ciara Weston's (Victoria Konefal) baby, things are starting to make sense. Ciara knew NONE of this was making sense because Marlena (Deidre Hall) was acting weird and John is not a spousal abuser. Once John sees her at the hospital, he learns where MarDevil and Ben are and heads off to see if he can get Marlena back from Satan once again.
We all learned that you can't just put the devil in cuffs and Shawn Brady (Brandon Beemer) realized that more than anyone when he tried it on Thanksgiving and she threw him clear across the Horton table before taking off in a hellish blaze. What will John do to try and reach Marlena now? Will MarDevil morph into OG Kristen DiMera (Eileen Davidson) again or will Gabriel the Angel prevail on John's behalf?
DOOL Spoilers – Another Sami Brady And Nicole Walker Throwdown
EJ DiMera (Daniel Feuerriegel) got quite a show the other day when his wife Sami (Alison Sweeney) walked in on him and Nicole Walker (Arianne Zucker) in bed. Sami went insane, as Sami tends to do, and she and Nicole had a catfight right there in his bedroom fighting over him. What more could a man want?
Will he want to witness the next confrontation right in Horton Square when Sami and Nicole run into each other and want to literally rip one another's hair out? Someone better call the cops fast before someone gets hurt because in no way will Sami let this one go and Nicole won't take whatever Sami has to dish out.
DOOL Spoilers – EJ DiMera Has A Decision To Make
The relationship between EJ and his wacky mother, Susan Banks (Stacy Haiduk), has been glorious to watch of late and on Tuesday he opens up to her about his love life. He does have real feelings for Sami and is hurt that she cheated on him with Lucas once again, but he has also developed real feelings for Nicole and is torn. Will Susan have any words of wisdom for her son? Stay tuned to Days of Our Lives weekdays to see how these stories play out.