Days Of Our Lives (DOOL) Spoilers: The Eric And Nicole Face-Off You've Been Waiting For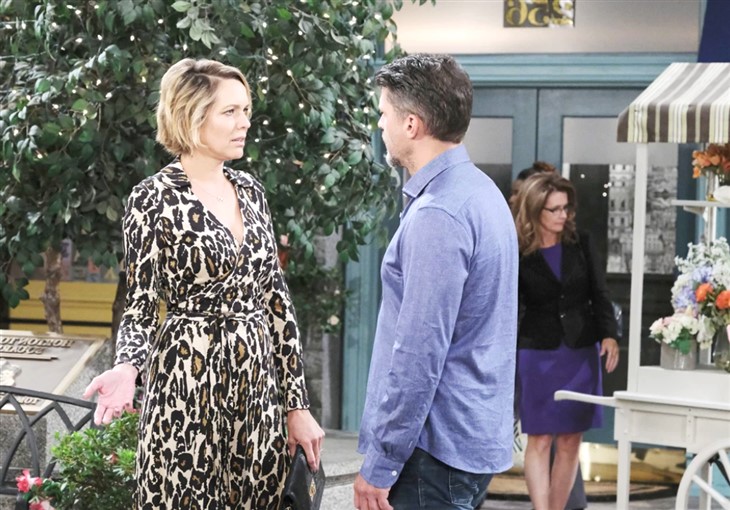 Days of Our Lives (DOOL) spoilers for Tuesday, July 20, 2021, reveal in Salem Eric and Nicole finally discussing the last year of their lives that ruined their one-year-old marriage.
Days Of Our Lives Spoilers – Nicole Brady Gets To Have Her Say
Now that the anniversary party has come to an abrupt end thanks to Sami's (Alison Sweeney) machinations, Eric (Greg Vaughan) and Nicole (Arianne Zucker) return to their apartment where Eric starts packing to leave and return to Africa. Nicole knows this is her last chance to have her and explain herself and she does. She also says what many fans have been thinking.
She didn't marry Eric to still be a single woman. She wanted a partner in life, someone who would raise Holly with her and be there for her — in person — when she needed comfort and support. Eric took off to Africa before the ink on their marriage license was dry and he stayed gone for nearly a year. Will Eric take some of the blame for what happened to his marriage or will he keep claiming innocence and blame Nicole for her actions? And Nicole DOES know she shouldn't have slept with Xander (Paul Telfer), but she still has an explanation for how it happened.
DOOL Spoilers – Lucas Horton Sees An Opportunity
Everyone at the anniversary party is quite impressed that Sami is still Sami and nothing about her will ever change. But Philip (Jay Kenneth Johnson) and Lucas (Bryan R. Dattilo) see what she did as a way for Lucas to get the truth out about his own affair, which they know will prompt EJ (Daniel Feuerriegel) to leave Sami, freeing her up to be with Lucas.
Meanwhile, EJ starts suspecting his wife is hiding something and he's determined to find out what it is.
Days Of Our Lives – Claire Brady Has Some Words For Ciara Brady
Claire (Isabel Durant) is determined to ensure that Ciara (Victoria Konefal) doesn't marry Theo (Cameron Johnson), considering she is an amnesiac who married Ben (Robert Scott Wilson) a year ago and would never marry Theo if she just had her memories. To that end, Claire has a long talk with Ciara, hoping to change her mind — and jog her memory. Stay tuned to Days of Our Lives weekdays to see how these stories play out.