Days Of Our Lives (DOOL) Spoilers: MarDevil's Halloween Spree Is Far From Over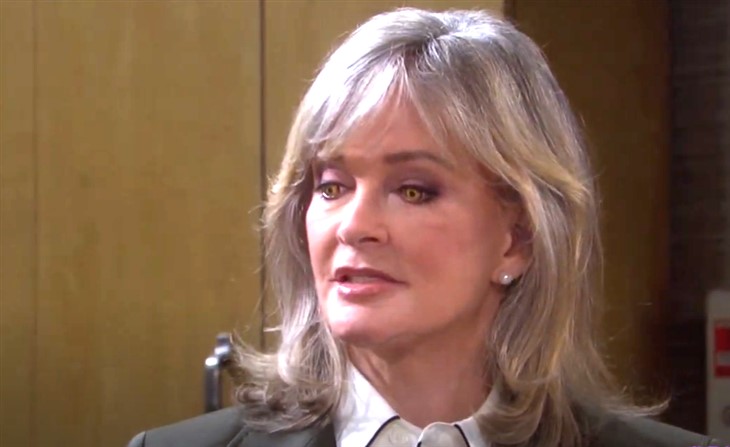 Days of Our Lives (DOOL) spoilers for Tuesday, November 2, 2021, reveal MarDevil still wreaking havoc all over Salem as their team of undead soldiers makes everyone's life a living hell — literally.
Days Of Our Lives Spoilers – More Happy Halloween Hauntings
MarDevil (Deidre Hall) needed a small army of undead soldiers and now has what they need with Charlie Dale (Mike Manning), Nick Fallon (Blake Berris), and Deimos Kiriakis (Vincent Irizarry). They all want revenge and are all determined to get it. It's Halloween night so there's no better time like the present. All MarDevil can do is laugh and laugh and have loads of fun at Salemites' expense. They'll forget about John Black (Drake Hogestyn) for one night and make this Halloween a special one.
DOOL Spoilers – Rafe Is Stunned By What He Sees
With Charlie back to get revenge on his mother for being a crappy mother, Ava Vitali (Tamara Braun) doesn't quite know what to do. She knows she failed her son but never expected him to come back to life and haunt her on Halloween. She also knows how dangerous he was when he was alive, so he must be more dangerous as a member of the undead.
She managed to get away and find Tripp Dalton (Lucas Adams), but when Rafe Hernandez (Galen Gering) returns home he is shocked to see a dead body on the floor. Who could this dead body be? And what will Charlie now do to Allie Horton (Lindsay Arnold)?
Days Of Our Lives Spoilers – And What About Nicole?
Nicole Walker (Arianne Zucker) is also haunted by her past when Deimos Kiriakis shows back up in her life in quite a creepy way. He was supposed to be dead and she was the one who killed him. But she also never paid for the crime thanks to some machinations from Brady Black. There is nothing more Deimos wants than to make Nicole pay. Who will be able to rescue her in time?
Finally, Gabi Hernandez (Camila Banus) has to deal with that man she killed twice before, Nick Fallon? Will she kill him a third time? With Gabi, when there's a will, there's always a way. Stay tuned to Days of Our Lives weekdays to see how these stories play out.