Days Of Our Lives (DOOL) Spoilers: Kristen Uses New Strategy, Pretends To Be Chloe's New BFF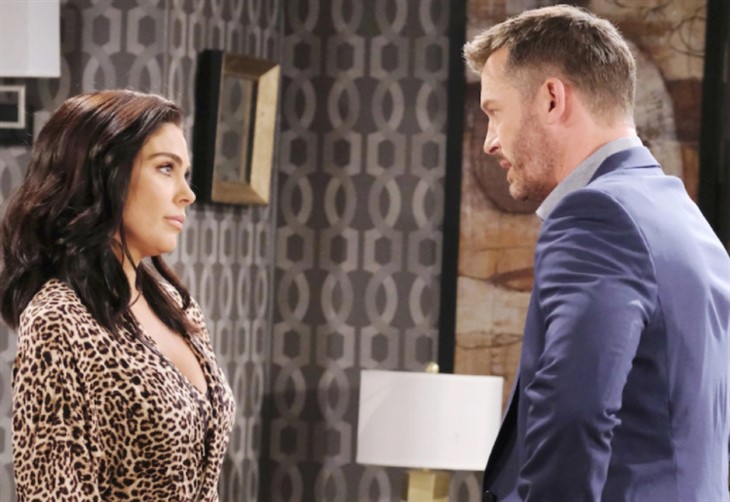 Days of Our Lives (DOOL) spoilers reveal that in Salem Kristen DiMera (Stacy Haiduk) is pretending to be Susan Banks (also played by Haiduk). She's trying to keep Brady Black (Eric Martsolf) and Chloe Lane (Nadia Bjorlin) apart, but isn't having any luck. Plus, Brady is starting to get angry with "Susan." The unstable felon tries a new strategy. Could she suddenly try to be Chloe's BFF?
Days Of Our Lives Spoilers – Chloe Lane Won't Stay Away
DOOL spoilers reveal that Kristen has been paranoid about Chloe for quite some time. Even though the opera singer does have feelings for Brady, she didn't realize it until recently. When Kristen first began fixated on the brunette, "Bhloe" were just friends and there was nothing going on between them. At the time, Chloe only viewed Brady as a friend and nothing more. As Kristen tries to keep the two apart, her current tactics aren't working. She has been quite rude to Chloe, but she still comes over to take care of Brady anyway.
DOOL Spoilers – Brady Black Annoyed
Brady has been pretty patient with "Susan," but everyone has their breaking point. Plus, Brady is still in pain, which probably makes him a tad more agitated than usual. So, when Chloe was kind enough to bring some tasty muffins and "Susan" smacked it across the room, Brady wasn't happy. You could hear the anger and annoyance in Brady's voice. If "Susan" keeps acting up, then she might be asked to leave and Kristen doesn't want that to happen.
Days Of Our Lives Spoilers – Using New Strategy
Days of Our Lives spoilers reveal that during the week of March 8, Kristen will decide that she needs a new strategy. It seems logical that if hovering, being rude, and playing muffin softball isn't working, then to do the exact opposite. While Brady will be relieved to find "Susan" being kind and friendly with Chloe, will the opera singer really fall for it? Won't she wonder why the sudden change in Susan? In any case, Kristen will pretend to be buddies with Chloe. Her goal is to get Chloe to trust her, to open up, to reveal something that can be used against her. It's also to try and manipulate Chloe into making some big mistakes with Brady.
Days Of Our Lives (DOOL) Spoilers: Who Killed Charlie – Will Salem Ever Know https://t.co/ZRNIdYywuH pic.twitter.com/DU9fu1Pl00

— SOS/CTS/HH (@SoapOperaSpy) March 2, 2021
DOOL Spoilers – Kristen DiMera Unraveling
Changing tactics with Chloe is not the only thing that will happen in this storyline next week. It seems that Kristen begins unraveling. As she struggles to maintain control, she finds it harder to keep up the "Susan" ruse. It seems that it's only a matter of time before Brady and Chloe learn the alarming truth. Will the felon end up losing Brady forever? We will have to keep watching the NBC soap to see how this story ends.
Be sure to catch up on everything happening with DOOL right now. Come back often for Days of Our Lives spoilers, news, and updates.