Days Of Our Lives (DOOL) Spoilers: Gwen's Story Half-True, Laura Funded Very Privileged Life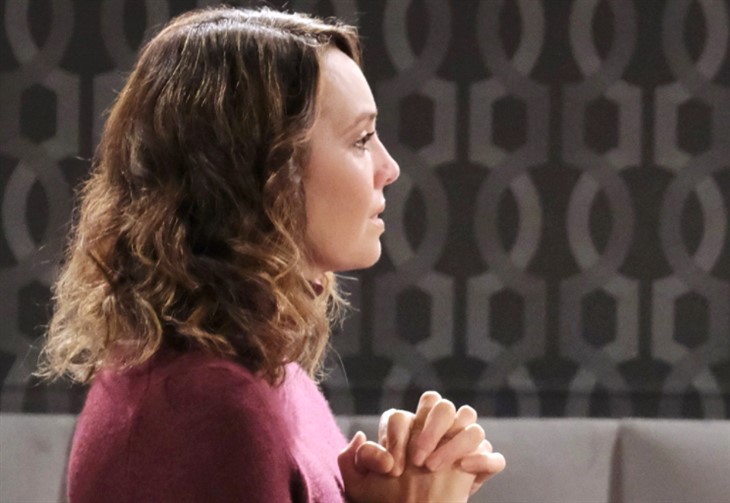 Days of Our Lives (DOOL) spoilers reveal that Gwen Rizczech (Emily O'Brien) has a sad story. We believe she's Jack Deveraux's (Matthew Ashford) daughter, but the rest is just for dramatic effect. Gwen has always lied and told convincing stories and this is no exception. Days spoilers hint she actually had the best of everything, all paid for on Laura Horton's (Jamie Lyn Bauer) dime.
Days Of Our Lives Spoilers – Laura Horton Drops Baby Bomb
DOOL spoilers reveal that Laura comes back in early February and has something to say about Gwen's paternity claim. She tells Jennifer Horton (Cady McClain) and Abigail a story about Gwen. It dates back many years and it is indicated that Jack really is Gwen's father. However, the bitter young woman is wrong about some things, like Jack "dumped" her for Abigail. It turns out that Laura never told Jack about Gwen.
DOOL Spoilers & Updates -Truth And Lies Mixed Together
Gwen gives everyone a sob story about Jack ruining her life. That she grew up with barely any food to eat and her mother got involved with drugs. That Jack only sent a few dollars now and then. She claims that when her mother died, she was put in an orphanage. DOOL spoilers show she insists that Jack knew about her and didn't want anything to do with his secret love child.
She even talked about moving across the ocean to another country — and she was questioned how it was paid for — but didn't really give a good answer. That's because half of Gwen's story is true on DOOL, but the other parts are either exaggerated and completely fabricated.
New Days Of Our Lives Spoilers – Gwen Rizcech Had Best Of Everything
Days of Our Lives spoilers reveal that Gwen could be making up how horrible her life was. She might not have ever been poor. What if her mother is still alive and well? Remember, Gwen panicked when Anna DiMera (Leann Hunley) wanted to know if she was from the UK because of her accent. She wouldn't discuss her mother or life before Salem at all. As if she had to make sure they couldn't poke any holes in her story when she finally dropped the bombshell.
It's possible that Gwen actually had the best of everything. Gwen's mother wouldn't disappear for just a few dollars. She would want to be comfortable. What if Laura paid Gwen's mother a lot of money to disappear and even financed her international move? What if Laura made sure Gwen had the best education and all the opportunities to have a good life? Laura might have wanted Gwen to stay a secret, but she wouldn't want to see an innocent child suffer.
Days Of Our Lives (DOOL) Spoilers: Victor Fixes Philip's Mess, Shells Out Harsh Consequences #DOOL #Days #DaysOfOurLiveshttps://t.co/Y9MCrZX3ER

— SOS/CTS/HH (@SoapOperaSpy) January 25, 2021
DOOL Recaps & Spoilers – Cut Off Financially
So, if Gwen had a privileged and high-class life, then why make up a bad childhood? Well, one reason is to make Jack feel as awful as possible. She needs to justify all the cruel things she has done to Abigail. But there is another possibility. Maybe she was a spoiled brat who ended up being cut off financially because of her behavior? Not wanting to get a job and support herself, she decided to find her daddy so she could be taken care of.
Then things got complicated. Gwen had to figure out how to slither her way into the family's life and make them want to "compensate" her. She also doesn't want anyone calling her mother, so she labeled her a drug addict who couldn't keep food on the table. Then she claimed she was dead. Nobody is going to be looking for a dead woman to confirm Gwen's sad story… or would they?
Be sure to catch up on everything happening with DOOL right now. Come back here often for Days of Our Lives comings and goings, DOOL spoilers, soap opera news, and cast updates.