Days Of Our Lives (DOOL) Spoilers: Gwen Wins, Abigail Leaves Chad And Salem, Heads To Boston?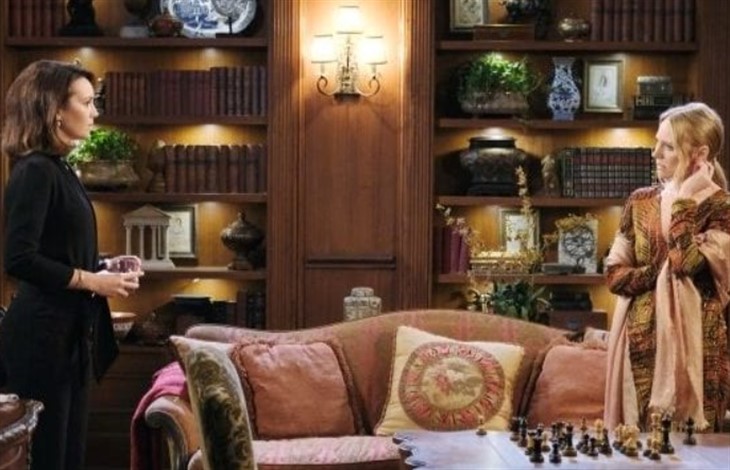 Days of Our Lives (DOOL) spoilers for the week of April 26 reveal that Gwen Rizczech (Emily O'Brien) announces she's leaving town. However, Jack Deveraux (Matthew Ashford) won't let that happen. He feels that she needs guidance and won't make her be on her own, especially with all her issues. So, Abigail DiMera (Marci Miller) could make a drastic decision.
Days Of Our Lives Spoilers – Gwen Rizczech Tries To Run Away
DOOL spoilers reveal that Gwen brought all of Abigail's hatred onto herself. It didn't have to be this way if Gwen had done things right from the beginning. Instead, she lied and schemed to hurt Abigail. What makes it particularly sad is Abigail had nothing to do with Gwen being fatherless. Abigail was just as innocent as Gwen in all of this. They could have bonded but instead, Gwen was too filled with hatred and resentment.
Now that the tables have turned and Gwen is pregnant, she is less interested in revenge. She wants to be part of the Deveraux family. While Jack has given her a chance, that is not going to happen with Gwen. After deciding to keep her baby despite Abigail's abortion demand, Gwen tells Jack she's leaving town.
DOOL Spoilers – Jack Deveraux Steps In
When Gwen tells Jack that she's leaving Salem, will he really allow her to go? O'Brien was in the anniversary cast photo, which only includes the regular, full-time cast members. So, we don't think this will be goodbye. She will either leave and come back after she has the baby or Jack will end up changing her mind. The only thing Gwen ever wanted was a family and now she has that with Jack. There's just the Abigail issue that may or may not be resolved.
Days Of Our Lives Spoilers – Abigail DiMera's Big Exit
Days of Our Lives spoilers reveal that Miller recently gave birth. We can't imagine her turning around and going to work right away. She needs maternity leave and we expect Abigail will be temporarily written out to accommodate that. How exactly will she go, though?
Days Of Our Lives Spoilers Two Weeks Ahead: Ciara Leaves Town, Belle Black Framed For Murder https://t.co/Bkl07PdzWJ pic.twitter.com/SYH4i7RfEv

— SOS/CTS/HH (@SoapOperaSpy) April 19, 2021
DOOL Spoilers – Staying With Jennifer Horton
It was previously speculated that Abigail would get so out of control that she might be committed again. However, there is another possibility. She might decide to leave Chad to get away from the stressful environment that triggered her mental health relapse. Namely, she needs to get away from Gwen. It's possible that this was the reason why Jennifer Horton (Melissa Reeves/Cady McClain) is still in Boston after all this time. Maybe Abigail goes to stay with her mom and get herself back together.
Be sure to catch up on everything happening with DOOL right now. Come back often for Days of Our Lives spoilers, news, and updates.