Days Of Our Lives (DOOL) Spoilers: Chloe's Wild Idea, Philip Fakes Death To Fool Angelo Vitali?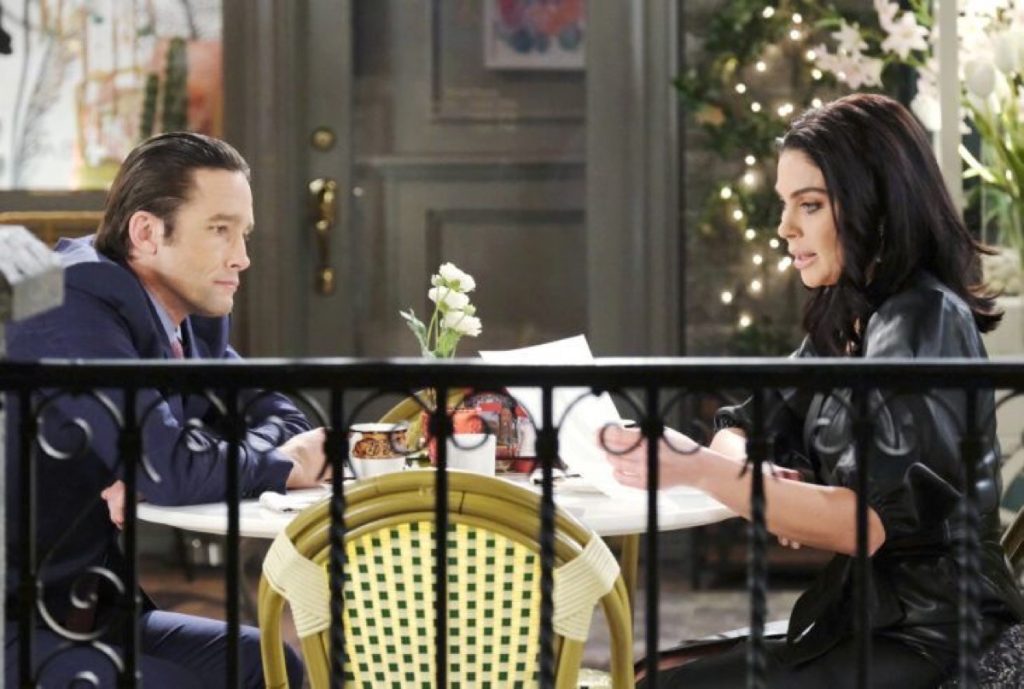 Days of Our Lives spoilers reveal that Philip Kiriakis (Jay Kenneth Johnson) is more desperate than ever. Chloe Lane (Nadia Bjorlin) gives him shelter but will also come up with an idea to save him from the mob. Could her crazy idea actually work? Is it possible that she convinces Philip to fake his death and Chloe will play the grieving lover to fool Angelo Vitali (Angelo Tiffe)?
Ava Vitali's Not An Issue Right Now
DOOL spoilers reveal that Xander Kiriakis (Paul Telfer) has figured out the truth about what Philip is doing at Titan. The semi-reformed bad boy let him know about it too, which infuriated Philip. It also sent him into a panic because now the mob is going to want him dead. He gave Xander some points to ponder before he stormed out.
Even though Ava Vitali (Tamara Braun) was supposed to be monitoring the situation, she is in no condition to do that. She's restrained to a hospital bed and is still hallucinating from the drugs Charlie Dale (Mike C. Manning) put in her soup. That means the mob will send someone else to handle Philip.
DOOL Spoilers: Angelo Vitali's Intentions
Philip told Xander that while Ava isn't an issue right now, Angelo will be coming for him. He seems more scared of Ava's cousin. It is teased that a member of the Vitali family will come to Salem to find out why there's been no contact from Ava. The individual will also want to deal with Philip's enormous debt the way they wanted to before Ava's bright idea.
Hiding Philip Kiriakis
Days of Our Lives spoilers reveal that Chloe is going to give Philip shelter, but we don't think he just needs a place to sleep. She's probably going to hide him from the mob. It is something that Brady Black (Eric Martsolf) is angry about. However, when he lashes out at Philip, Chloe fires back at her ex-husband. She informs him that she will make her own decisions and she's helping Philip by any means necessary.
Days Of Our Lives Spoilers: Chloe Lane's Scheme
The new issue of Soap Opera Digest states that Chloe comes up with an idea on how to help Philip. We know paying the mob back isn't an option because it's more money than Philip ever had in his account. That tells us it could be in the hundreds of thousands, perhaps even millions of dollars. The only way out of this seems to be if Angelo thinks Philip is already dead. Could Chloe suggest Philip fake his death and when Angelo comes around, she will play the weeping lover grieving his sudden demise? We can see her doing that, but will it actually work? Probably not.
Be sure to catch up on everything happening with DOOL right now. Come back here often for Days of Our Lives spoilers, news, and updates.