Days Of Our Lives (DOOL) Spoilers: Arianne Zucker Talks Engagement, Family Blessing And Wedding Plans
Days of Our Lives (DOOL) spoilers reveal that Arianne Zucker (Nicole Walker) and Shawn Christian (ex-Daniel Jonas) recently announced their engagement. Zucker opened up about the proposal and engagement during an interview. She explained how she had a surprise for Christian that same day. The actress also talked about her fiance getting her family's blessing first.
Days Of Our Lives Spoilers – One Day, Two Surprises
DOOL spoilers reveal that Zucker opened up to Soap Opera Digest about the proposal and engagement. Even though the couple have talked about rings before, the actress never expected a marriage proposal.
Father's Day began with Zucker arranging a surprise in Lake Tahoe. The actress got some help from Christian's step daughter, actress Taylor Cole. Unknown to her at the time, Cole was also trying to help Christian surprise Zucker. When the proposal took place, the actor got down on one knee and went all out. The event was filmed so Zucker's daughter with Kyle Lowder (Rex Brady) could watch it.
DOOL Spoilers – Family Blessing
Before asking for her hand in marriage, Christian contacted Zucker's family to ask for their blessing. He not only asked Zucker's parents, but her brother as well. When Zucker's dad called Christian, the couple were actually in the car together. To keep everything a secret, Christian asked questions about plumbing.
Days Of Our Lives Spoilers – Kyle Lowder's Reaction To News
Days of Our Lives spoilers reveal that Zucker has a great relationship with her ex-husband and father of her daughter. Not only do they co-parent and occasionally work together, but they are good friends. Lowder is also friends with Christian, so they shared the engagement news with him. Zucker told the publication that everyone is really excited, including her ex-husband.
DOOL Spoilers – Wedding Plans
As for their wedding plans, Zucker indicated that they are thinking sometime next year. However, they haven't really talked too much about the upcoming event. For right now, they are just enjoying being engaged. She added,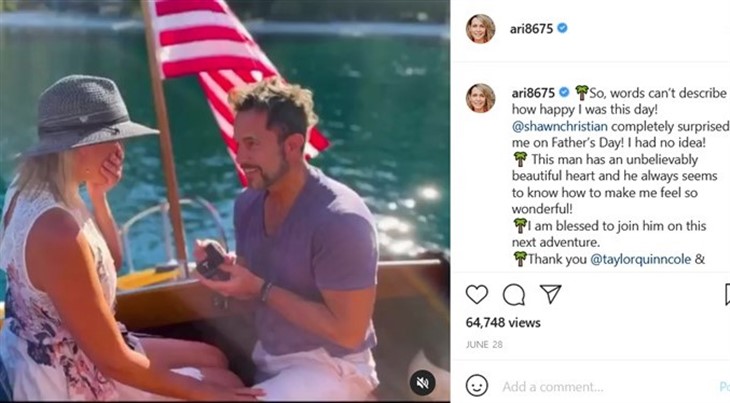 "We're definitely thinking we'll do it sometime next year, but we're just going to enjoy this. For a week after, we were passing ships in the night. He was shooting a Lifetime movie and I was working and I said, 'Have we enjoyed our engagement yet?' We got coffee and took a walk together and talked about the enjoyment of being engaged. It was awesome."
We want to send a big congratulations to Arianne Zucker and Shawn Christian on their engagement. What do you think of the couple getting married and how each of them were trying to surprise each other? We will keep you posted with new developments and updated information as it becomes available.
Be sure to catch up on everything happening with DOOL right now. Come back often for Days of Our Lives spoilers, news and updates.