Days Of Our Lives Comings & Goings: Kristen DiMera Returns, EJ's Secret Visitor Confirmed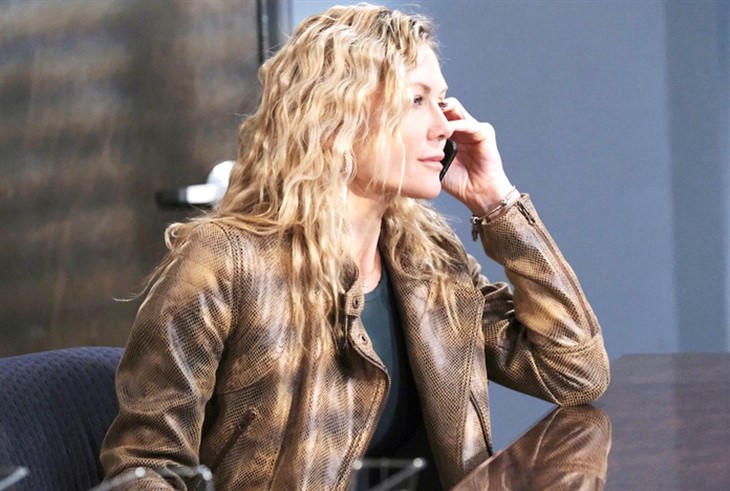 Days of Our Lives spoilers reveal that EJ DiMera (Dan Feuerriegel) is surprised by a visitor. There were a lot of theories about who it could be, including Sami DiMera (Alison Sweeney) and Susan Banks (Stacy Haiduk). It is confirmed that during the week of October 25, EJ will be reunited with Kristen DiMera (also played by Haiduk).
Days Of Our Lives Spoilers – Steve Johnson's Search
DOOL spoilers reveal that Victor Kiriakis (John Aniston) has made a deal with DA Melinda Trask (Tina Huang). If Victor can find Kristen and get her back in prison where she belongs, then Trask will release Xander Cook (Paul Telfer) and Justin Kiriakis (Wally Kurth). Victor agrees to the deal and immediately asks Steve "Patch" Johnson (Stephen Nichols) to take the case.
DOOL Spoilers – EJ DiMera's Reunion
Steve and Kayla Johnson (Mary Beth Evans) grill EJ about his sister's whereabouts. Now, EJ and Kristen might not always get along or agree with one another. However, family is everything to the DiMeras, so EJ isn't going to rat out his sister.
Interestingly enough, it isn't long after that before Krsten resurfaces in Salem. During the week of October 25, EJ faces a surprising visitor at his doorstep. It's confirmed to be none other than Kristen.
Days Of Our Lives Spoilers – Rachel DiMera Disappears
Days of Our Lives spoilers reveal that same week, Rachel DiMera (Finley Rose Slater) goes missing. That is also the same time frame when Chloe Lane (Nadia Bjorlin) moves out of the Kiriakis mansion. Brady Black (Eric Martsolf) offers Chloe a place to stay. However, she might not feel it's appropriate to stay with her boss, especially since Philip Kiraikis (Jay Kenneth Johnson) is still a loose cannon. Plus, Lucas Horton (Bryan Dattilo) questions Brady about being seen entering the Salem Inn with Chloe.
It is teased that Rachel is lured away by Kristen. What we don't know yet is if Kristen just spends a few minutes talking to her daughter or if the villain actually kidnaps the six-year-old.
DOOL Spoilers – Unfinished Business
Kristen has a lot of unfinished business to attend to in Salem. There is Brady, Chloe, Rachel and Xander, as well as the disappearances of both Sami and Sarah Horton (Linsey Godfrey). When Kristen comes back to Salem, she will likely stay under the radar and hide in the DiMera tunnels in her family's mansion.
So, how will Marlena Evans (Deidre Hall), who is now "MarDevil" again, deal with Kristen? Satan has completely taken over Marlena's body and mind. So, could Kristen and Marlena end forging an unexpected alliance? Kristen will likely make a deal with the devil – literally. However, what happens when Kristen realizes the price she has to pay is her own daughter?
Be sure to catch up on everything happening with DOOL right now. Come back often for Days of Our Lives spoilers, news and updates.