Brandon Barash Lights Up Instagram By Singing In Festive Underwear
Days Of Our Lives star Brandon Barash has become known for his role as Jake on DOOL. But beyond his acting, Brandon has occasionally revealed his talents at singing and playing the guitar. And now, in his latest proof of passion for those skills, Barash turned to Instagram to sing a seasonal classic.
Remember Adam Sandler crooning "The Chanukah Song" on Weekend Update segment of Saturday Night Live in 1994? Brandon then recreated that performance in 2020 for the Stone Cold and the Jackal podcast hosted by former General Hospital castmates, Steve Burton and Bradford Anderson, per Soaps. Check out his newest performance below!
Days Of Our Lives – Star Brandon Barash Wows Instagram
What's the perfect break from portraying Jake on Days Of Our Lives? For Brandon Barash, it's all about his hobby of playing the guitar and singing. But now just any song. Brandon chose to revise his version of "The Chanukah Song" for his Instagram followers in a lively video. 
"A lil ditty I did last year for the @stonecoldandthejackal podcast," wrote Barash in his Instagram caption.
Happy holidays to all. (watch til the end ?)."
Taking a sip of what appears to be an alcoholic beverage, Brandon pauses before launching into "The Chanukah Song." And here's a tip: Be sure to follow his recommendation to watch him play and sing until the end. Because that's when the Days Of Our Lives star stands up and reveals his impressively festive underwear! 
DOOL – Brandon Barash's Fans React To Performance – And Underpants!
Instagram followers of the Days Of Our Lives star flocked to praise his performance. And few could resist commenting on the fact that Brandon decided to leave off his pants to display his underwear for the performance. For instance, Barash's former General Hospital co-star Kirsten Storms offered her take on the performance. Storms and Barash married several years ago and welcomed a daughter, Harper Rose Barash. And although the two subsequently split, they co-parent on positive terms, as revealed by Kirsten's Instagram response.
"I played this for Harper (pretty sure she saw it last year and doesn't remember)," wrote Kirsten of their daughter. "She thought it was really funny until the end. Then she was concerned that you didn't know you posted something on Instagram where you're in your undies. lol."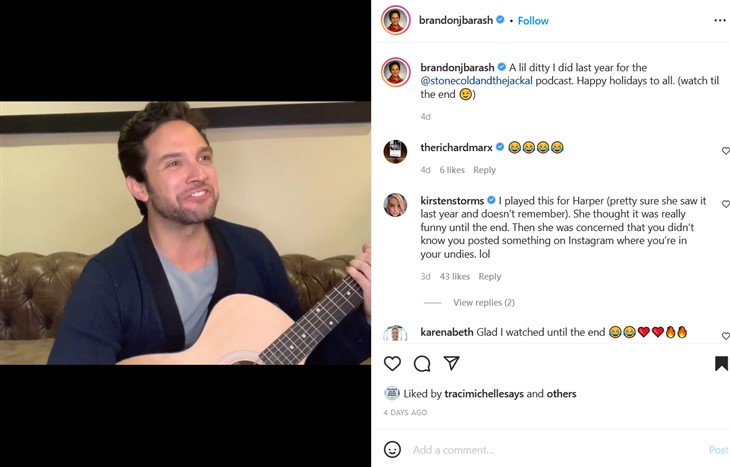 Singer and songwriter Richard Marx also responded to Brandon's version of "The Chanukah Song." The pop crooner gave Barash four smiling faces. And other fans reacted as well. "Absolutely amazing Brandon!" gushed one fan. "You sure can do it all. this is hilarious. Kinda loved that ending when you stood up though." And the undies display also won over several other of Barash's followers, with comments such as "Glad I watched until the end" and "awesomeness."
Want to compare Days Of Our Lives star Brandon Barash's version of "The Chanukah Song" to the original from Adam Sandler? Check out the YouTube video below. And then share your views with us on both! Don't forget to check back on our site for all the Days Of Our Lives news.