B&B Spoilers: The Paris Problem Keeps Growing – More Steffy Problems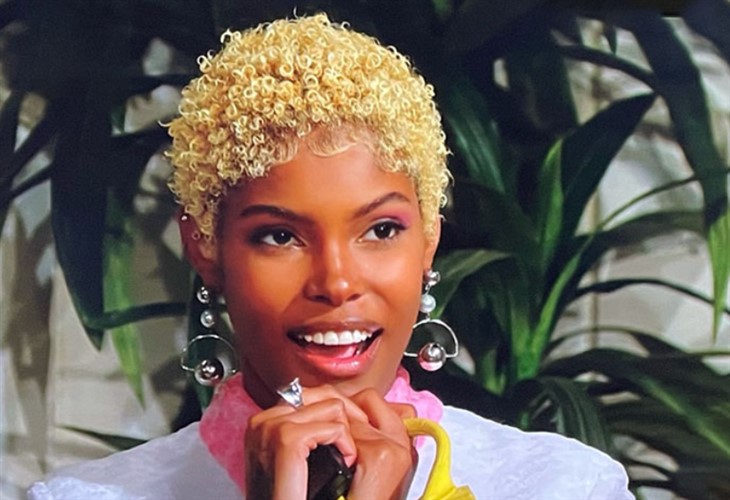 The Bold and the Beautiful (B&B) spoilers for Friday, September 17, 2021, reveal in Los Angeles Paris becoming one woman Steffy needs to watch out for.
The Bold And The Beautiful Spoilers – Trouble In Steffy Forrester's Paradise
Steffy (Jacqueline MacInnes Wood) thinks she has it all now. Finn (Tanner Novlan) chose her over his crazy bio mother Sheila Carter (Kimberlin Brown) and they think she skipped town. (Think again.) She even got to spend a nice day at the beach with Liam (Scott Clifton), Hope (Annika Noelle), and all their kids — like normal people. But, she forgot about her housemate. Just as Steffy and Finn were about to share some very private time, Paris (Diamond White) walked in and did not walk out. Things got awkward and they're about to get even more awkward.
On Friday, Finn confides in Paris that he really does want to have his cake and eat it too, so to speak. He wants to have Steffy and Hayes in his life, but he also wants to get to know this woman who gave birth to him and learn what makes her tick. This might not be the best idea in the world, but it's what Finn wants and Paris Buckingham completely understands. Her friendship means so much to Finn that he even gives her a hug, which Paris really, really enjoys.
B&B Spoilers – Paris Buckingham's Mind Wanders…
Does Paris enjoy that hug just a little too much? When alone, she has quite the fantasy about Finn and it's clear she's falling for the good (but not very bright) doctor. After all, he likes to walk around without a shirt and she is a woman after all — and one who even has a Forrester for a boyfriend. But is she as obsessive as her sister was when Zoe first arrived in town?
Perhaps this is the crazier Buckingham sister and Zoe (Kiara Barnes) was always the sane one and we didn't even know it. It's not like their father, Reese (Wayne Brady), the man who kidnapped Beth and sold her to Taylor (Hunter Tylo), is playing with a full deck. Perhaps Paris even has more in common with Sheila than originally thought. Stay tuned to The Bold and the Beautiful weekdays to see how these stories play out.