B&B Spoilers: New Bride Steffy Goes Off On Her Husband – Donna Wants Eric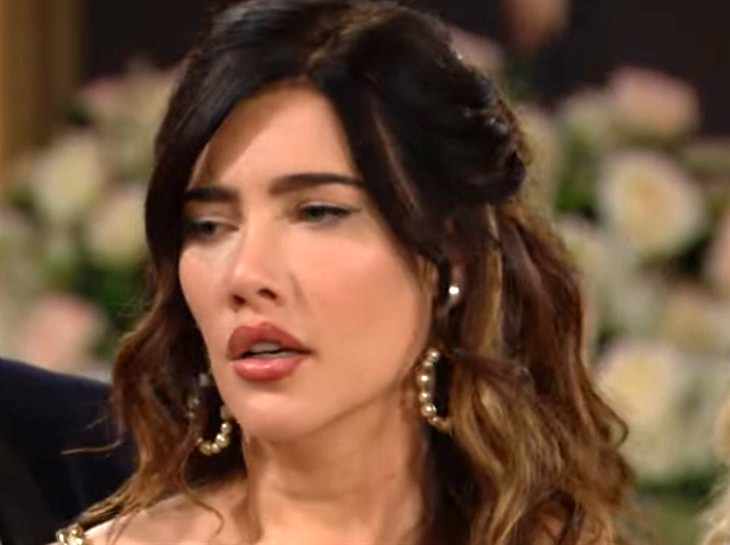 The Bold and the Beautiful (B&B) spoilers for Wednesday, August 11, 2021, reveal Steffy Forrester (Jacqueline MacInnes Wood) is in complete disbelief that Sheila Carter (Kimberlin Brown) of all people is now her mother-in-law — and she doesn't handle things well.
The Bold And The Beautiful Spoilers = Steffy Forrester Is One Angry Bride
It was all perfect, too perfect, in fact. Steffy's wedding day went from the stuff of fantasies to the stuff of nightmares when Sheila Carter walked in on her reception. Learning that she wasn't just crashing the wedding, but is actually the birth mother of her new husband is too much for Steffy to take. That also means she is her baby son's grandmother. Could it get any worse?
Not in Steffy's mind. She takes the news out on Finn (Tanner Novlan) and lashes out at him for bringing this woman into their lives. She also lays down the law. This woman will not be a part of their lives or their son's life and if Finn wants his supposed birth mother in his life, he better learn some things about her first cause Steffy doesn't think her husband will want to know his mother for long. Finn has never seen this side of his bride before? How will he handle it? The poor man must be in a state of absolute shock.
B&B Spoilers – Donna Logan Really, Really Wants Eric Forrester
After going through some old wedding albums and musing about marriage and love, Donna (Jennifer Gareis) once again tells Katie (Heather Tom) that all she wants is Eric (John McCook). She regrets that their marriage broke up and has been pining for him for years, but he was with Quinn (Rena Sofer) and there was nothing she could do about it.
Will Katie try to convince her sister to go for it now? Quinn is out of Eric's life for good and moving on with her life, so what does Katie have to stop her? Little do both Logan sisters know that Sheila Carter is back in their lives, which can most certainly put a crimp in any thoughts of Eric being a free man with no complications in his life. Sheila is always a complication in everyone's lives. Stay tuned to The Bold and the Beautiful weekdays to see how this story plays out.