B&B Spoilers: Jack's Life Crumbles, Sheila Fixes Finn's Family?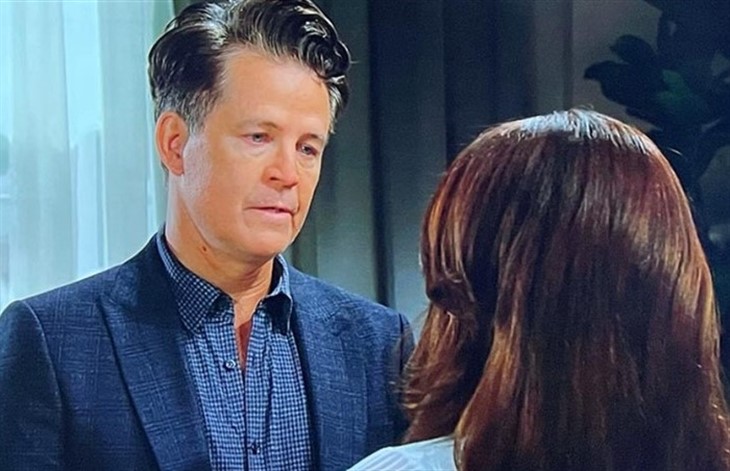 The Bold and the Beautiful (B&B) spoilers reveal that Jack Finnegan's (Ted King) paternity bombshell will cause his entire world to fall apart. Li Finnegan (Naomi Matsuda) is probably done while John "Finn" Finnegan (Tanner Novlan) cuts his father out of his life. Could Sheila Carter (Kimberlin Brown) be the one to fix the Finnegan family?
The Bold And The Beautiful Spoilers – Li Finnegan's Fury
B&B spoilers reveal that Jack finally admitted the truth to Li. When Li found out that not only did Jack have an affair, but lied about being Finn's biological father all of these years, she was furious. Li and Jack's marriage is going to take a big hit from this.
However, Li's first priority was Finn, who needed to know the truth. Li made sure that Jack couldn't weasel out of confessing by putting him on the spot while visiting Finn and Steffy Forrester Finnegan (Jacqueline MacInnes Wood).
B&B Spoilers – John Finnegan's Decision
Finn is both heartbroken and furious over Jack's deception. Ever since Finn was a child, he has asked questions about his parents. Now that Finn knows the truth, his entire world is falling apart. It's true that he has the answers he needs, but can't help but feel manipulated and betrayed by one of the few people he trusted. It is teased that Finn's anger will run so deep that he will cut Jack out of his life.
The Bold And The Beautiful Spoilers – Turning to Sheila Carter
The Bold and the Beautiful spoilers reveal that Jack will have nobody to turn to who understands except Sheila. Even though Sheila did a good thing by pushing Jack to confess, she also bounces back to her manipulative ways. It is confirmed that Sheila will use Jack's pain to her advantage.
At the same time, Finn is shocked that it was Sheila that encouraged Jack to come clean. Finn has cut his mother out of his life due to her lies, manipulation tactics and devious schemes. Now he is starting to question that decision even though he means that it could cause more issues with Steffy.
B&B Spoilers – Fixing Finnegan Family
Actress Kimberlin Brown has teased repeatedly that Sheila really has changed for the better. However, we are seeing her manipulative side emerging because nobody will give her a chance. Of course, Sheila needs to remember everything she's done to the Forrester family. Plus, she was given chances before and blew it every time. So, it's perfectly understandable why nobody trusts her.
Sheila could show her good side when Jack's entire life falls apart, though. It's possible that the one person who helps fix the Finnegan family is the one responsible for tearing it apart – Sheila Carter. This might be enough to earn redemption in Jack and Finn's eyes, but what about Steffy?
Be sure to catch up on everything happening with B&B right now. Come back often for The Bold and the Beautiful spoilers, news and updates.