B&B Spoilers: Brooke Continues To Try To Force Donna On Eric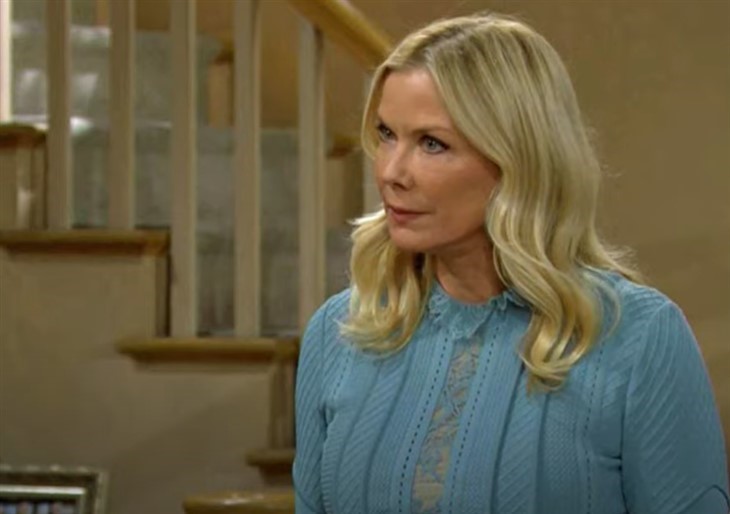 The Bold and The Beautiful (B&B) spoilers and updates reveals while Donna is trying to accept that her Honey Bear has cut her out of his life her older sibling will continue trying to push them together. Things will become tense as Brooke and Quinn go toe to toe.
The Bold And The Beautiful Spoilers – The Logan Sisters Unite
On Wednesday At Ill Giardino, Brooke Forrester (Katherine Kelly Lang) was eagerly awaiting the news that Eric Forrester (John McCook) was ready to end his marriage to Quinn Forrester (Rena Sofer) once and for all. Katie Logan (Heather Tom) agreed with her sister as they sat at the restaurant that Donna Logann (Jennnifer Gaareis) was the better choice for Eric. Katie and Brooke are united jn their faith that their younger sister will eventually replace Quinn.
B&B Spoilers – Eric Forrester Honors Quinn Fuller
While the sisters were talking Eric was at Forrester Creations telling Donna that he was going to honor his commitment to his wife. Quinn wants Donna to lose her job which is hypocritical because she cheated with Carter and he is still working for Forrester. Donna stopped Eric before he could fire her Donna said she would clean out her desk. Brooke will be furious when she hears this and unlike her sister she will not back down.
The Bold And The Beautiful Spoilers – Quinn Forrester Wants To Eliminate The Logan Sisters
Donna is giving in but Brooke will not and Eric won't make her unless Quinn persists. Quinn told Shauna Fulton ( Denise Richards) on Thursday that she wishes all three of the Logan sisters were out of her life. Eric. however, has yet to put his foot down where Brooke and Katie are concerned. Spoilers say she will continue to push her sister on Eric by insisting that Donna is a better woman than his wife.
B&B Spoilers – Brooke Logan And Quinn Fuller Might Battle
Eric reluctantly kicked Donna to the curb because Quinn kept insisting that he do so. Once she finds out that Eric did her bidding this may empower Quinn to go a step further and demand that her husband cut all ties with the other Logan sisters. If this happens it will make Brooke even more determined even if Donna has given up. She and Quinn will battle face to face because Brooke will stand up for her sister. She will continue to insist that Donna and not Quinn is the right woman for Eric.
Be sure to catch up on everything happening with B&B right now. Come back here often for The Bold and the Beautiful spoilers, news, and updates.