B&B Spoilers: A Not-So-Good-Terrible Bad Day For Finn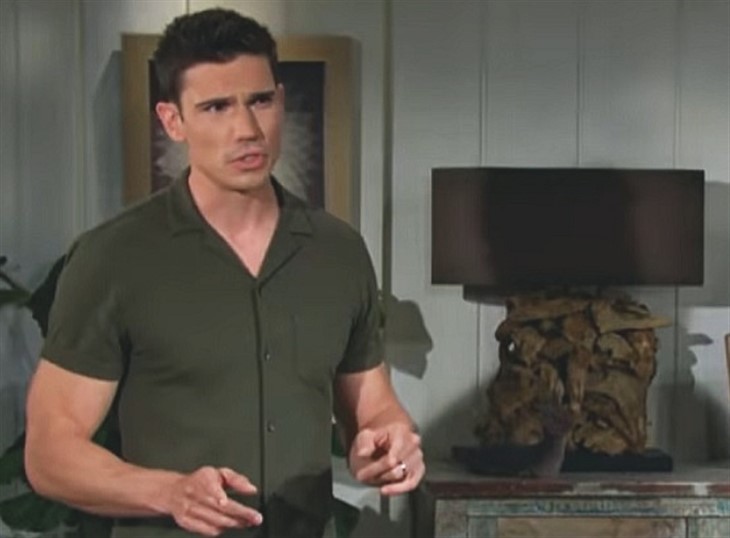 The Bold and the Beautiful spoilers for Tuesday, August 31, 2021, reveal Finn having a day he could never have imagined just a few short weeks ago when all seemed right with the world.
The Bold And The Beautiful Spoilers – John Finn Finnegan Becomes A Forrester Enemy
Steffy (Jacqueline MacInnes Wood) is done with her new husband already. In fact, he's not even her husband since neither one of them bothered to sign the marriage certificate. That makes it easier for Steffy to kick Finn (Tanner Novlan) right out of her beautiful house. After all, he allowed Sheila Carter (Kimberlin Brown) into her living room when he thought she was out of town and even let the crazy woman hold her precious newborn son. Finn broke her trust and Steffy is over men breaking her trust. She certainly doesn't want one around who is going to put her baby in danger.
After enduring Steffy's ire, Finn has to get ready for a verbal pummeling from her father. Ridge can't believe that Finn did what he did after he promised Steffy that Sheila would absolutely never, ever be a part of their lives. Ridge lays into this man who is not even legally his son-in-law and puts him in his place. What's a nice doctor to do who feels like he's been hit by a truck after learning about his own mother?
B&B Spoilers – Paris Buckingham To The Rescue
At least Finn still has a friend to lean on in the form of Paris Buckingham (Diamond White), the young woman who seems to be able to do it all and is now living with Steffy. Something tells us that Finn was the biggest draw when she agreed to move in and now Finn should be happy to have her around, even if he has been banished for now.
Paris listens to all of Finn's woes and is the understanding woman he thought he had when he took those vows with Steffy. Will Paris take advantage of Finn being on the outs with Steffy or will she remember that he is a semi-married man. While Paris seems absolutely perfect, she might be more of a schemer than her sister. Stay tuned to The Bold and the Beautiful weekdays to find out if Paris gives Finn more than just a listening ear.