90 Day Fiancé Nicole Nafziger Returns To Instagram Amid Azan Tefou Split Rumors
90 Day Fiancé alum Nicole Nafziger ended her social media hiatus with the latest photo of herself. The TLC celeb has been keeping a low profile amid claims that she and Azan Tefou already split.
90 Day Fiancé Spoilers – Nicole Nafziger Breaks Social Media Silence
It seems Nicole Nafziger is done hiding from the public eye after she made an unexpected return on Instagram earlier this week. The 90 Day Fiancé star has been silent on social media for quite a while now — something very different from her previous online presence.
On Thursday, Nicole shared a selfie, showing off her casual look. The reality star didn't say much in her post, except for a short "hi" to her followers.
This is the latest post of the 90 Day Fiancé celeb after months of silence. The last time she shared an update was in March and it was just a photo promoting her mom's hand-made face masks.
Nicole Nafziger Still Mum About Azan Tefou
Fans quickly flooded Nicole Nafziger's comments section with questions about Azan Tefou. Many are curious to know about the status of the 90 Day Fiance stars.
Despite the never-ending questions, Nicole remains tight-lipped about the issue. But fans are convinced that things are not doing well between the pair.
Nicole appeared to hint about the breakup on her Instagram page. Aside from not mentioning Azan on any of her posts, she also removed all traces of him on his account.
The 90 Day Fiancé star also removed the phrase "Engaged to H" in her bio, which she used to proudly flaunt online.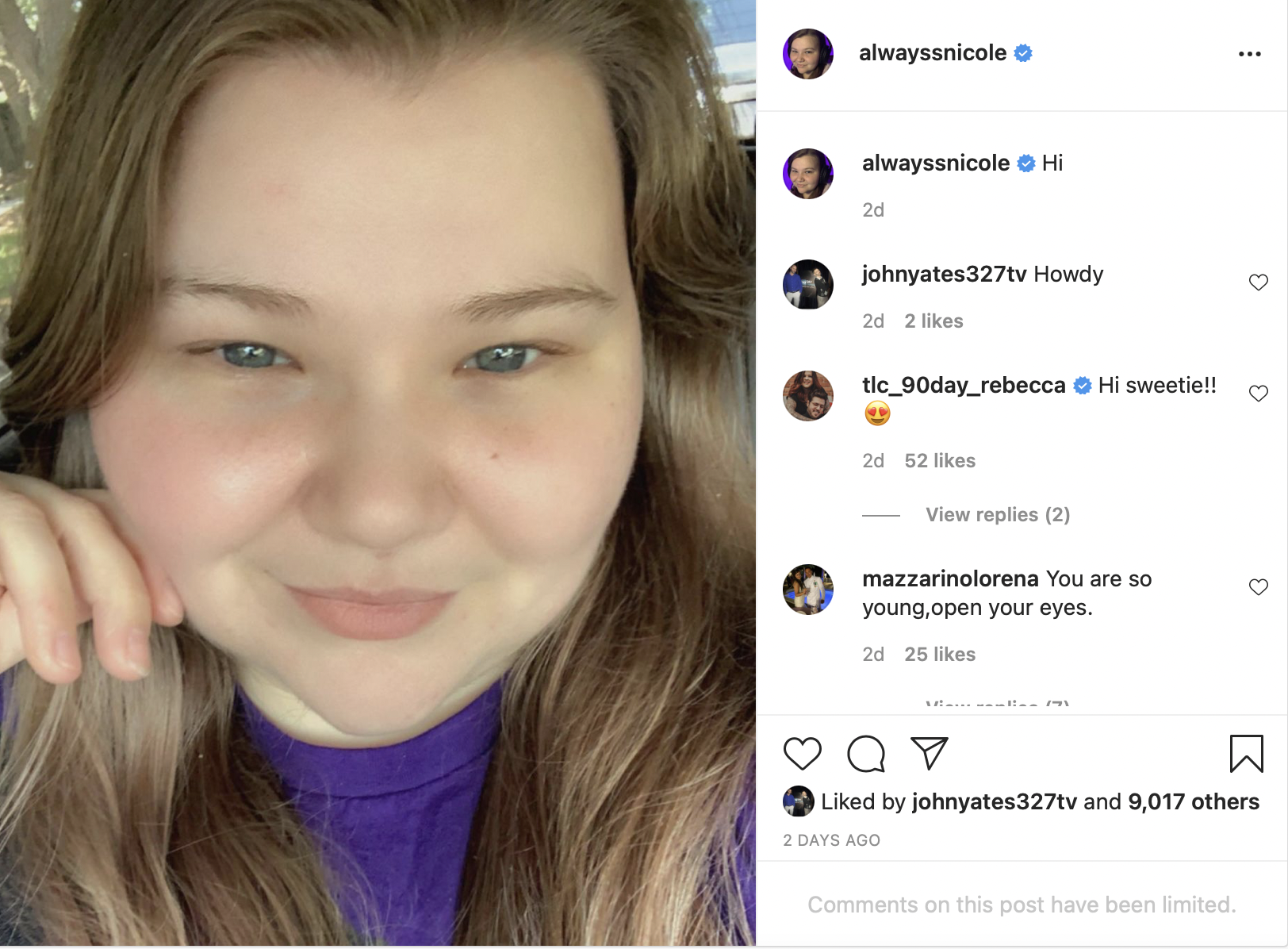 TLC – 90 Day Fiance Spoilers – Nicole Nafziger  Keeps Herself Busy
Nicole Nafziger seems to keep herself busy lately as well. The 90 Day Fiance star has been very active on her Twitch channel where she lives stream some of her video gameplays.
Nicole has been spending a lot of time playing video games lately. She even introduced her young daughter, May, to the same hobby as well.
Aside from her game live stream, the 90 Day Fiance star is busy helping her mom with her small business, srqQuilter. Nicole has been promoting some of her mom's products, including face masks and accessories.
As for her return on the hit TLC franchise, Nicole previously said she's not planning on it anytime soon. The reality star said she wants to make sure that she will be able to share something new with the fans before going back on the show again.