1000-LB Sisters Spoilers Tammy Puts On Weight After Leaving Rehab Too Soon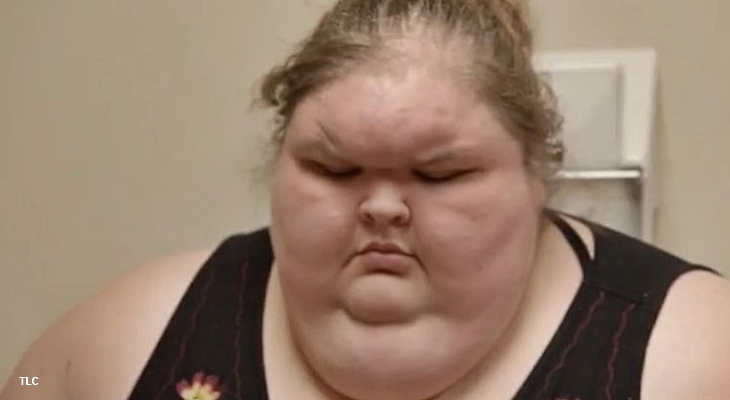 1000-LB Sisters fans heard ahead of Season 3, that Amy Halterman said her sister Tammy Slaton was like "the Titanic, slowly sinking." Well, fans hoped that rumors that Tammy lost weight at rehab might be true and that she actually weigh less. However, as the new season plays out on TLC, it becomes evident that it all fell to pieces. In fact, she left rehab early and put on more weight, which seemed like bad news to her doctor.
1000-LB Sisters – Tanny Slaton's Brother Chris Blames Boyfriend
In a previous episode, fans saw that Tammy was very excited about her new boyfriend Phillip. Well, as far as TLC fans could make out, he is much the same as her last lover, Jerry Sykes. He seems to be an enabler who likes very large women. Amy described him as a "feeder." Well, her brother went along to Tammy's weigh-in. In the teaser, he seemed angry and worried about his sister. Speaking in his confessional he said that she shouldn't focus on a  guy who wants to make her fatter.
The 1000-LB Sisters brother sounded very worried when he noted that Tammy is "pissing away her time" and she doesn't have much of that left.  Actually, this season, fans feel that Tammy is tragic rather than amusing. They fear that she might die soon. After all, reports emerged that she recently suffered from Carbon Dioxide poisoning, because her body is too heavy to effectively get rid of the bad gasses in her lungs. Growing angry, some critics slam TLC for "exploiting" Tammy.
1000-LB Sisters Fans Get Sad About Weight Gain After Rehab
When Tammy weighed in, her doctor said that she put on weight just as he "feared," adding that she left rehab too early. Well, she looked bigger than ever as she made her way to the scale with difficulty. Then, it went all the way up to 639-lbs. Meanwhile, Tammy had hoped that she lost weight to get into the 500s. Well, the caption read, "It's been 3 weeks since Tammy's last weigh in and she's gained 15 pounds." It wasn't what Tammy hoped for and she sounded annoyed.
1000-LB Sisters fans now seem to distance themselves from her. Actually, many folks expect any day now, to hear the news that Tammy passed away. Clearly massively obese and edging closer to the end of her life, it's as if fans don't want to hear it. After all, if someone s very ill in the family, folks have to deal with it. But, if it's someone not related, perhaps it's easier to just not get involved. That way, they migth avoid heartbreak if or when the bad news arrives.
In Season 1, Tammy Weighed 605 pounds
1000-LB Sisters premiered in January 2020, nearly two years ago. At the time, fans heard her doctor tell her that she should lose weight or risk dying inside of five years. Unfortunately, she now weighs 34-lbs more than that. One fan said sadly, "At this point this is suicide, it's not the men she is with. It's her smh."
Be sure to catch up on everything happening with the Slaton sisters right now. Come back here often for more 1000-LB Sisters spoilers, news, and updates.