TLC '90 Day Fiance – Happily Ever After' Spoilers: Angela Appeared On 'Maury Povich' More Than Once!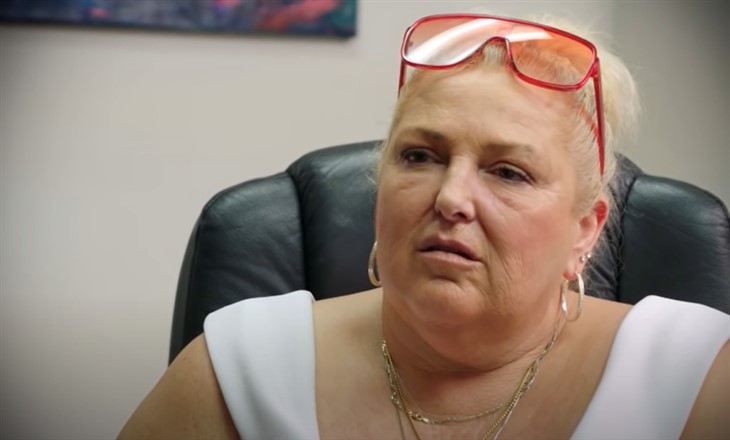 It turns out that TLC's "90 Day Fiancé-Happily Ever " isn't Angela Deem's first reality rodeo: she appeared on the daytime talk show "Maury Povich" and a spinoff more than once!
TLC 90 Day Fiance' Spoilers – Several Years Ago Angela Appeared With Her Daughter Scottie And Her Boyfriend Terry
Several years ago Angela appeared with her daughter Scottie and her boyfriend Terry on both the Maury show and with Scottie and a former boyfriend, Chris on an apparent spinoff of it called "Tricia Goddard Show" which was based on the British version of the "Maury Show".
On that show, they appeared as part of a story where she said that Scottie's boyfriend, Chris, was not the father of their baby girl, who "90 Day Fiancé-Happily Ever After" viewers know as Angela's granddaughter London. Chris is a Black man and he thought London was too light-skinned to be his, and Angela was on Scottie's side on this, believing London to be Chris's child as well.
DNA tests were even done! On the Maury Show, Terry and Scottie were together, and they had a daughter, Ariah, and Angela said he wasn't Ariah's father because she saw an ex of Scottie's coming out of their bathroom partially unclothed. Scottie said that the ex needed a place to take a shower and she accommodated him, although the rest of the story was untold.
Angela was her same confrontational self, as viewers see her frequently on "90 Day Fiancé", even lashing out at Maury Povich himself! Even though Maury has been off the air since NBC Universal did not renew his syndication contract, the episodes of both his show and Tricia Goddard's show that Angela, Scottie and Terry appeared on, as well as baby London and baby Ariah, can be found on YouTube, and Maury himself also retain an online presence at the website https://www.mauryshow.com/.
In Ariah's case, Scottie and Ariah were found to be suffering from kidney disease, apparently genetic, and even though the DNA test was sought for a non-medical reason, it was needed just in case Ariah had to have blood transfusions or even a kidney donation. Fortunately, as viewers can see now, little Ariah is just fine! On this "Maury Show" episode, Angela accused an ex-boyfriend of Scottie's being the father, and she also said that Scottie was sick and if something happened to her, she didn't want to have to "clean up her mess"!
The DNA test actually showed Terry was the father; in the episode, it can be clearly seen that Scottie is definitely her mother's daughter, and she looks much more like her mother than her sister Skyla, who "90 Day Fiancé-Happily Ever After" viewers are familiar with. The two got into quite the fight on that episode, and Maury revealed Terry was the father via the DNA test.
'90 Day Fiance': Stacey And Darcey Talk Love, Which One Is Single Again? #90DayFiancehttps://t.co/vQmkDOmXUT

— SOS/CTS/HH (@SoapOperaSpy) August 15, 2020
We Know Skyla – Who Is Scottie And Why Don't We See Her?
"90 Day Fiancé" fans know Angela's daughter Skyla, who lived with her and her ailing grandmother Glenda on the show-but fans want to know who Scottie is and why don't we see her? Scottie is nearly the spitting image of her mother, while Skyla may take after her father. It turns out the answer is that Scottie was in prison, although she was recently paroled. In 2017, she was found guilty of child molestation, although further research indicates she was romantically involved with a 15-year-old boy – which still would be considered child molestation and possibly statutory rape, even if he was consenting.
The age of consent in the state of Georgia and most other states in the US is at least 18, if not 21. She took a plea deal and obtained early release in June 2020, so if Angela and Michael Ilesanmi's story continues on Season 6 of "90 Day Fiancé-Happily Ever After" viewers may get to see Scottie on the next season. This also explains why Angela has such a houseful of grandkids, some of them are Scottie's and the rest can be assumed to be Skyla's!
Stay tuned to "90 Day Fiancé-Happily Ever After" on TLC, and keep checking here frequently for all the latest news, updates and gossip about all your fave "90 Day Fiancé" stars and shows!