The Young and the Restless Spoilers: Victor & Nick Must Team Up When New Episodes Air – Adam Again Common Enemy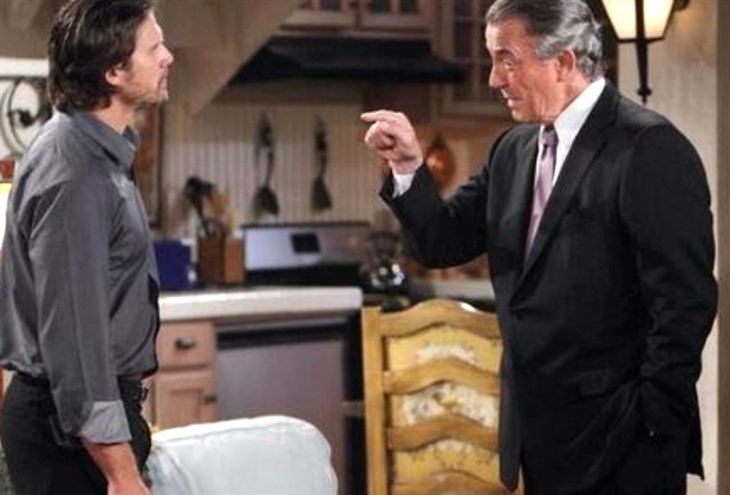 CBS The Young and the Restless spoilers document Victor Newman (Eric Braeden) and Nick Newman (Joshua Morrow) have often been at odds through the years. But as classic episodes have demonstrated, these two Newman men have enjoyed many bonding periods as well.
There's no doubt that the SORAS'd (soap opera rapid aging syndrome) version of Adam Newman (as originally portrayed by Chris Engen and played today by Mark Grossman) has served as a common ground point for Victor and Nick. Considering Adam's latest attempt to disrupt the Newman family and its business, it's likely that Braeden and Morrow's characters will agree to work together again.
The Young And The Restless Spoilers – Nick Newman Loves His Father
Underneath all of Nick's longstanding angst is a deep love. Full respect has been lacking during too many past periods. But Victor has come to understand his first-born son's emotions and outlook on life to a certain degree.
Longtime fans know that Victor wanted to bond with his father, Albert Miller (George Kennedy). But that mean man had no room in his heart for Victor, as Nick witnessed during what will always represent some of Braeden's greatest scenes.
Y&R Spoilers – Adam Newman Loathes Reality
Adam shouldn't have a complicated view of the world. His mother, Hope Wilson (Signy Coleman), was a wonderful, warm-hearted woman. She didn't want the son she had with Victor to live in Genoa City, Wisconsin. So, Hope and Adam left GC years ago and returned to the farm in Kansas.
Hope died in 2008, which is when Adam learned that Victor was his father. Adam's refusal to believe that his mother made the Kansas decision is tied into the fact that she's not around, but Victor is.
Adam's blame-shifting has long been apparent. His most recent intentionally unresolved early life issue, that's projected into modern times, has him believing that Victor killed Alyssa Montalvo's (Maria DiDomenico) father when he didn't. That's compounded by Adam's memory block of the childhood incident where he ended A.J. Montalvo's (no actor is known to be cast for this role) life. And so the frame for the latest Newman battle is set.
The Young And The Restless Spoilers – Victor Newman Won't Let Youngest Son Destroy Himself
Tough love is often called for where Adam is concerned. Sadly, Victor is again being forced to respond in this manner.
As Adam feels cornered and acts out, due to the Kansas issue and the soon to be revealed Las Vegas, Nevada, matter, Victor will need allies. The founder of Newman Enterprises and suffering father knows that he can rely on Nick to help him stop Adam.
The Young And The Restless Spoilers Filming Update: When Will New Y&R Episodes Air?https://t.co/nTVbSRZ51Z

— SOS/CTS/HH (@SoapOperaSpy) July 1, 2020
Grossman's character may reach the point where he'll have nothing to lose and won't care if everyone is damaged. But it's possible that Victor and Nick's union will help to save the family, the business, and Adam (from himself).
SOS is a leading source for everything linked to The Young and the Restless. Check back regularly for Y&R spoilers and news!
Share your thoughts in the Comments section below and join the SOS community, for all the Soap News Keep Visiting Soap Opera Spy, For all the Royal News & Brit Soaps, check out Celebrating The Soaps