The Young and the Restless Spoilers: Nikki Takes Matters Into Her Own Hands – Billy Gets A Wake-Up Call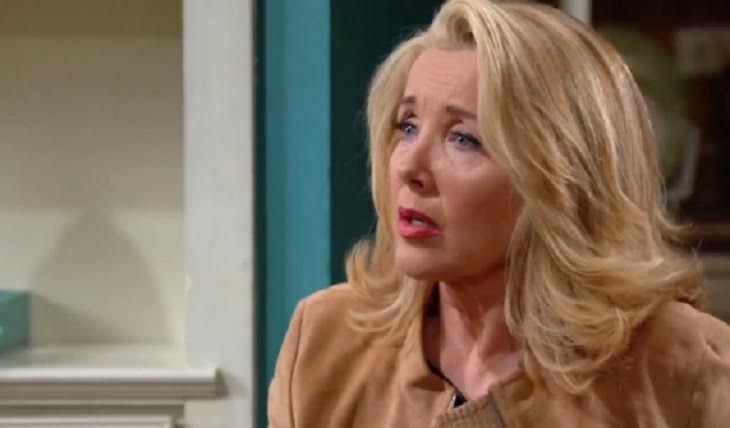 The Young and the Restless (Y&R) spoilers suggest that Nikki Newman (Melody Thomas Scott) will speak with Billy Abbott (Jason Thompson) about Victoria Newman (Amelia Heinle). Billy has not had the best reputation when it comes to being responsible and usually finds ways to make drama where there is no drama. However, in the coming episodes, Nikki will have something to say to Billy, could it help put things into perspective?
The Young and the Restless Spoilers- Victoria is still recovering
Victoria is still in the hospital recovering from the stabbing incident that happened at the Gala, and everyone is still worried about her as they wait for her to awake from her coma. This includes Victoria's family, friends, and Billy. Billy has not been able to see Victoria; however, since the Newmans believe that he played a part in Victoria ending up in the hospital. Billy, in a way, agrees that the decision he made to go to the Gala, which he knew he was not invited to, was not the best idea. He even tells Amanda that if he had listened to her, then Victoria would not be in the hospital right now and takes responsibility for that. It does seem like he may have a chance to go to the hospital in the coming days and may have a talk with Nikki as well.
The Young and the Restless Spoilers- Nikki speaks with Billy
The Young and the Restless Spoilers: Friday, February 28 – Phyllis Gets Abby's Hotel Shares – Dina's Declining – Chance Enlists Kevin's Help #YR #YoungandRestless #YRSpoilers #CBSDaytime #CBSSoaps #GenoaCity #DaytimeSpoilers #DaytimeTV #DaytimeDrama https://t.co/oMeKFqPpL1

— SOS/CTS/HH (@SoapOperaSpy) February 28, 2020
Nikki is understandably worried about Victoria and is hoping that she makes a full recovery as quickly as possible. Billy may try to see Victoria again, and this time Nikki may decide to have a talk with Billy in hopes of Billy coming to the conclusion that he will need to step up to the plate for his family while Victoria is in the hospital and fight for her life. She may allow Billy to spend some time in Victoria's hospital room. It wouldn't be too far fetched for Nikki to put aside her disdain for Billy in a time like this as even when Phyllis Summers (Michelle Stafford) came to the hospital, Nikki set aside her feelings because she knew that Phyllis was looking out for Nick Newman (Joshua Morrow).
There is no guarantee that Nikki's words will actually affect Billy or if Billy will take them into account since, as of this moment, he does not want to hear much of anything from anyone. It would be nice to see him listen to whatever Nikki has to say, even if he does not want to listen to it. What do you think? What do you think Nikki will say to Billy? Do you think that Billy will listen to Nikki? We'll give you updates as Y&R news comes in. Stick with the CBS soap, and don't forget to check CDL often for the latest Young and the Restless spoilers, updates, and news.