The Young And The Restless Spoilers: Adam Needs Jack's Help? – Victor Suspicious Of Nemesis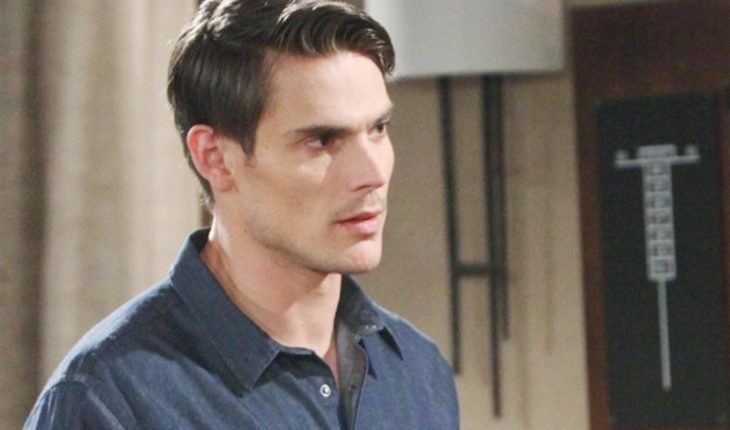 CBS The Young and the Restless spoilers and updates document that Adam Newman (Mark Grossman) will try to prove his innocence when new episodes air next week. He refuses to believe the story his father told him about Kansas, instead of thinking that Victor Newman (Eric Braeden) is protecting himself by trying to shift blame.
Viewers believe, based on implied flashback scenes that were shown when the last new episodes aired in late April, that Victor is telling the truth. During his childhood, Adam felt compelled to defend his mother against a local loan shark and killed him in a barn. Hope Wilson (Signy Coleman) called Victor, who flew to the farm and skillfully handled the consequences.
The Young And The Restless Spoilers – Smiling Jack Abbott Offers Advice
Teasers indicate that Jack Abbott (Peter Bergman) will offer Victor some unsolicited advice. The words of parenting wisdom could relate to Adam, though with these seasoned war horses it's anyone's guess.
It would be reasonable to believe that Adam will call on Jack for assistance as the plot flows forward. Hardcore fans recall that Jack and Adam have been close for many years. But their alliance is steeped in a mutual distrust of Victor, which led to various misguided decisions in years gone by.
The forged diary would be one of the instances where Jack and Adam's alliance went overboard. However, in this instance and in consideration of the genuine heart-to-heart conversations that Jack and Victor had in the recent past, an unexpected outcome could result.
Y&R Restless Spoilers – Adam Newman Opens Up
Adam wants to deal with whatever happened in Kansas. At the same time he believes that the woman he's paying off, who is the widow of the man he killed in self-defense in Las Vegas, Nevada, has been neutralized. Though that's probably not the case, or why else would this yet be seen character have been referenced?
Opening up to Jack seems like a logical choice Adam would make. He does have Chance Chancellor (Donny Boaz) as his Vegas partner, but the Kansas issue is one where Jack's counsel could prove vital.
Soap Ratings: Everyone's a Winner! GH, Y&R, B&B & DOOL All Get Top Spot Somewhere #yr #GH #DOOL #Boldandbeautiful https://t.co/8Xl7mdn4h8

— SOS/CTS/HH (@SoapOperaSpy) August 6, 2020
The Young And The Restless Spoilers – Victor Newman Isn't Playing Games
Victor is a three-dimensional chess player. Braeden's character wanted to protect his then young son and Hope from any repercussions that would have resulted from Adam's guilt being publicly exposed. So Victor employed a plan that buried the real story.
Due to Victor's effective actions, the authorities didn't learn that Adam was guilty and neither did those who were connected to A.J. Montalvo (no actor's name known for this retrospective role).
Victor's reaction to Jack's parental advice will imply more than their standard annoyance with each other. But maybe both men's interest in Adam's welfare results in the Kansas and Nevada issues being permanently resolved.
SOS is a leading source for everything linked to The Young and the Restless. Check back regularly for Y&R spoilers and news!