The Bold And The Beautiful Spoilers: Liam Right All Along, Crazy Thomas Snaps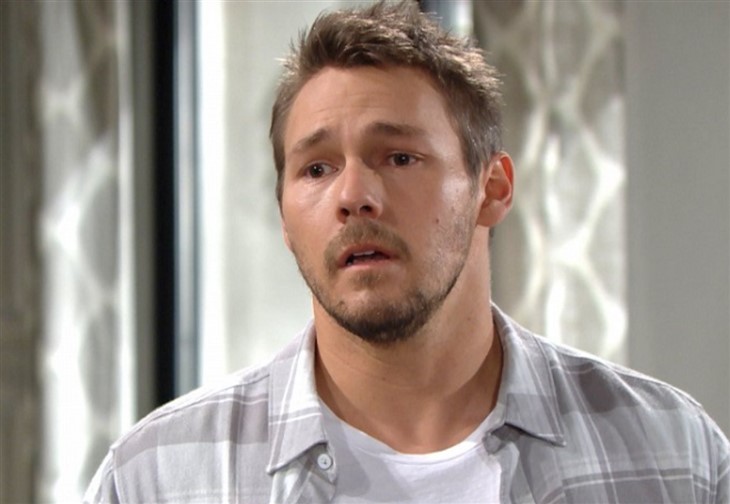 The Bold and the Beautiful spoilers tease Liam Spencer (Scott Clifton) made peace with Steffy Forrester (Jacqueline MacInnes Wood). He had a very pleasant conversation on The Bold and the Beautiful about the big family Lope and Steffy have formed in Los Angeles, which also included John Finnegan (Tanner Novlan).
But Liam added a caveat in the cliff house, as he, Hope Spencer (Annika Noelle), and Steffy stood in a physically distanced triangle that fans have become accustomed to seeing. Thomas Forrester (Matthew Atkinson) was tagged with a word that sounded harsh but will prove out as fully on the mark.
The Bold And The Beautiful Spoilers – Yes, Thomas Forrester Is Disturbed
Liam was right to contrast his developing ideas about Finn and his staunch stanch regarding Thomas. Steffy's smile was slowly dropped because of Liam's conversation shift from family and Finn to her brother's state of mind.
Thomas is exactly what Liam said he is, disturbed. It's a shame that a number of people who care about Thomas haven't agreed with Liam because doing so has allowed Atkinson's character to avoid receiving the mental health treatment, which could include hospitalization and medicine, that he surely needs.
B&B Spoilers – Mannequin's Words Being Repeated
An eerie scene took place on The Bold and the Beautiful as Thomas began hearing the Hope mannequin's voice in his head while he was with Finn at Forrester Creations. Viewers then heard Finn question Thomas, who was revealed as having said out loud what the Hope mind mirage was telling him.
Thomas has taken his repressed feelings about Noelle's character and projected them into a life-size plastic doll that was made to resemble Hope. His choice to take the Hope For The Future mannequin to the apartment where he's staying was the latest sign that Thomas hasn't recovered. How could he, when the only treatment he's been receiving are phone conversations with his mother?
The Bold And The Beautiful Spoilers – Scary Storyline Advancing Rapidly
In coming weeks Finn and Liam telegraph as being part of the eventual outing of Thomas' scary problem. Teasers indicate that the Hope doll will be discovered in the near future. With that viewers can assume that Thomas won't be able to explain his choice away.
Atkinson has scored hard in this villainous role. The terrific actor always makes the audience feel for his character, with a mix of apprehension and sympathy often elicited within the same scene.
The Bold And The Beautiful Spoilers: Carter Sees 'Good In Zoe', Lawrence Saint-Victor On Doomed Romance https://t.co/vzssM9yB6J pic.twitter.com/DS4IAVjydn

— SOS/CTS/HH (@SoapOperaSpy) October 28, 2020
B&B might be masking this storyline as part of the actual path that leads to Thomas' redemption. Hopefully he doesn't hurt others or himself in this projected scenario where he eventually receives help.
SOS is a leading source for everything linked to The Bold and the Beautiful. Check back regularly for B&B spoilers and news!