Days Of Our Lives Spoilers: Gwen Rips 'Chabby' Apart, Exploits Jake And Abigail's Relationship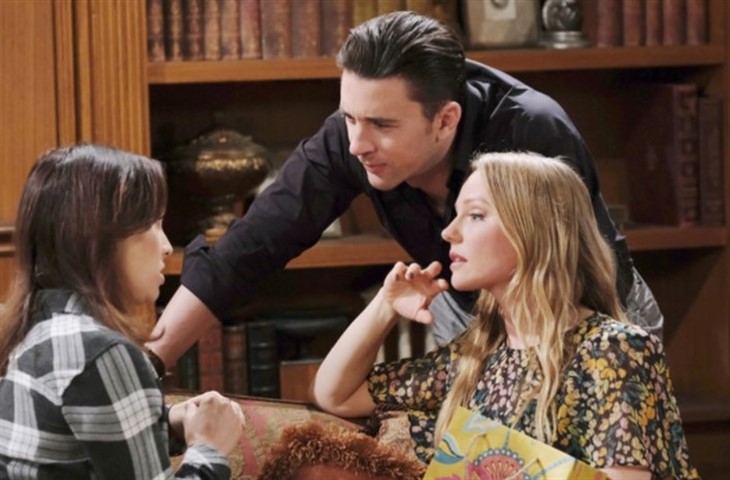 Days of Our Lives spoilers for November sweeps reveal that Chad DiMera (Billy Flynn) and Abigail DiMera's (Marci Miller) marriage will go through more problems. Abigail is getting along with Jake Lambert (Brandon Barash). However, this relationship will be exploited by Gwen Rizczeck (Emily O'Brien), who uses it to destroy "Chabby."
Days Of Our Lives Spoilers – Giving Jake Lambert A Chance
DOOL spoilers reveal that Abigail and Jake get along for the most part. She wants Chad to give his brother a chance. However, that hasn't worked out so far. Jake and Chad are both headstrong and stubborn. They also tend to go to war whenever they are in the same room with one another. So, it's been up to Abigail to try and play peacemaker.
DOOL Spoilers – Gwen Rizczeck's Resentment
For some reason, Gwen is extremely resentful of Abigail. But that's not where her bitterness ends. She seems to have a problem with the entire Deveraux family, but most of her attention is on making Abigail suffer. We will soon find out what the family's big secret is, but will it be exposed before Gwen destroys Abigail forever? Even though Jake is suspicious of Gwen, he doesn't seem to know much more than we do.
Days Of Our Lives Spoilers – Exploiting Platonic Relationship
Days of Our Lives spoilers from the new issue of Soap Opera Digest confirmed that Gwen will continue to target Abigail. Next, she is going to use Jake and Abigail's relationship, which is strictly platonic, and exploit it. Knowing that Chad doesn't like his brother at all or the relationship Jake and Abigail have, Gwen, will take advantage of it. She will make it seem like there is much more going on than what is really happening.
DOOL Spoilers – 'Chabby' Destroyed?
Even though Gwen's new plan might cause friction between Chad and Abigail, the couple has been through much worse. They will make it through this, just like they have overcome all the other obstacles that have been thrown at them. However, it is teased that Jake will become concerned when Abigail begins to lose it. Could Gwen successfully make Abigail go crazy again?
Days Of Our Lives News Updates: Linsey Godfrey Celebrates A Huge Milestone #Days #DOOL #DaysOfOurLiveshttps://t.co/ha4sLUhJwc

— SOS/CTS/HH (@SoapOperaSpy) October 29, 2020
What do you think the big Deveraux family secret is? Does it have anything to do with Abigail finding Jack Deveraux's (Matthew Ashford) letter to Kate Roberts DiMera (Lauren Koslow)? Or does it have to do with something else?
Be sure to catch up on everything happening with DOOL right now. Come back here often for Days of Our Lives spoilers, news, and updates.