The Bold And The Beautiful Spoilers: Jacqueline MacInnes Wood Explains Rushed Addiction And Recovery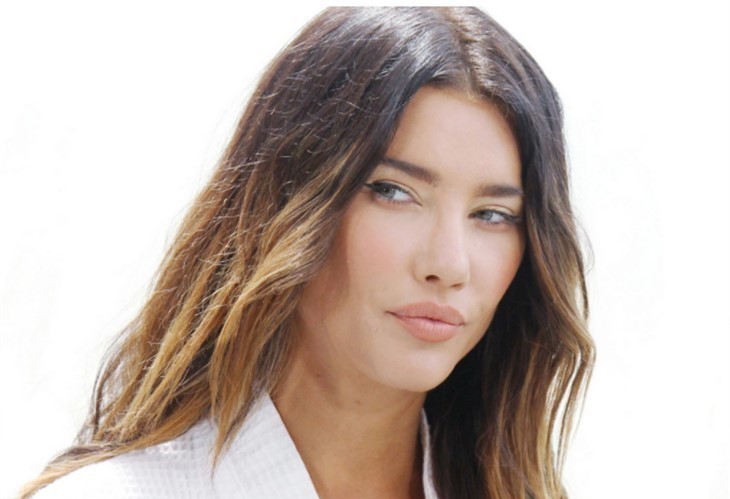 CBS The Bold and the Beautiful spoilers reveal that actress Hollywood Jacqueline MacInnes Wood has opened up about her character, Steffy Forrester. One comment that viewers keep mentioning on social media is how fast Steffy's addiction story was, as well as her supersonic recovery time. The actress explained why they wrapped it up really quickly.
The Bold And The Beautiful Spoilers – Insta-Addict Hot Topic Among Viewers
B&B spoilers reveal that on social media, one of the hot topics viewers are discussing is how quickly Steffy got addicted to painkillers. Even though it seems like it was just a few days and a few pills, soap time is sometimes on a different scale. We've all seen the episodes in which a character hasn't changed in three days… indicating that it's still one day in the soap world.
The opposite is also true of some storylines, where weeks can pass by for the B&B characters, but it's only a few days for fans. This is exactly what happened with Steffy getting addicted. Liam Spencer (Scott Clifton) confirmed this by telling Steffy during one episode that she had been acting "off" for weeks.
B&B Spoilers – Rapid Recovery
The addiction wasn't the only thing that was done at warp speed. It seemed like Steffy checked into rehab one day and two days later she was being released. Of course, we know that's not how treatment centers work in real life. They are typically 30 days in length, just long enough to get the drugs out of a patient's system physically. However, the mental and emotional issues stemming from that addiction can last much longer — sometimes even years depending on the person.
The Bold And The Beautiful Spoilers – Jacqueline MacInnes Woods Explains Speed of Story
The Bold and the Beautiful spoilers reveal that Jacqueline spoke with TV Watercooler about the storyline. The actress said that there were several reasons why the story was so quick. One of them is that everyone is already dealing with a very depressing world with everything that is going on.
"… we just didn't know for how long or how we wanted to navigate this story because it is such a depressing time right now. I'm happy that we did tell this story, it was very quick, but we all felt that we could only tell the story for so long because when you go on the news, it's all so depressing."
B&B Spoilers – Happy Plots Ahead?
In that same interview, it sounds like Jacqueline was hinting that we would finally get some happy storylines. She mentioned, "… now we need to lighten up the story because it is so dark right now."
Well, that sounds like some happiness for Steffy! We know that Steffy and Dr. John Finnegan (Tanner Novlan) aka "Finn" are jumping into romance. Even though some viewers think that Finn will show his dark side, nobody is perfect. He is going to have a past, things he is ashamed of, and chapters that he doesn't want anyone to ever read. But then again, Steffy also has those things — as well as everyone on the planet.
Plus, with Jacqueline indicating that we need something to "lighten up the story," it sounds like "Sinn" is going to have some happy times ahead.
Be sure to catch up on everything happening with B&B right now. Come back here often for The Bold and the Beautiful spoilers, news, and updates.