General Hospital Spoilers: Jordan Breaks Cyrus' Bond On New GH Episodes – Strong Woman Returns?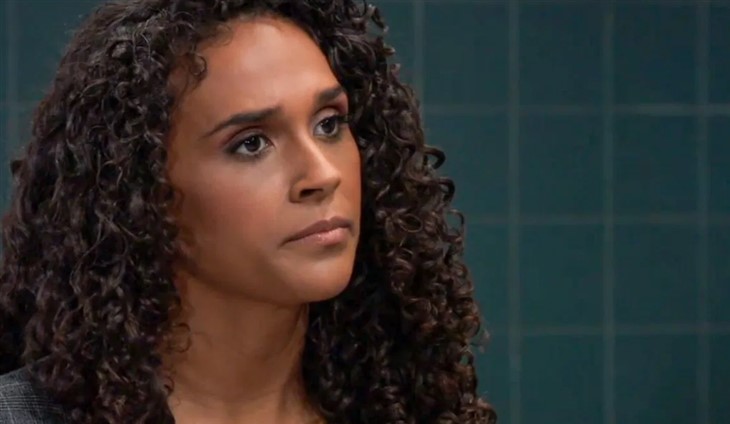 ABC General Hospital spoilers suggest that Jordan Ashford (Briana Nicole Henry) might be in for some more grief from the criminal mastermind, Cyrus Renault (Jeff Kober). GH fans know that up until now, Cyrus has manipulated Jordan like the marionette puppet she is. Now, GH viewers are dying to see if perhaps Jordan will finally discover her brains and cut the strings tying her to Cyrus Renault.
General Hospital Spoilers – Jordan Ashford Was Always Over Her Head
One has to wonder how Jordan Ashford ever managed to get one over on Cyrus Renault back in the day. How was it that Jordan was ever competent enough to sidle in close to Cyrus, convince him she was on his side without him seeing right through her, and more? These are important questions for the writers of General Hospital to answer in upcoming episodes when GH finally comes back. Because, as it is … Jordan is clearly one of the most incompetent police commissioners Port Charles has ever been unfortunate enough to hire.
Indeed, one has to wonder if GH producers have ever hired someone with a police background to act as a consultant for the writers. (If they have, GH producers should fire the one they've got and hired a new one.)
In any case, Jordan Ashford is over her head and can't deal with the menace that is Cyrus Renault. That's been more than obvious for months now. Indeed, even when she had the chance to do something pragmatic by going along with both her former partner and her husband's wishes, which would have seen her ally with Sonny Corinthos (Maurice Benard), she refused to do so. Of course, Cyrus remained a threat, and Jordan's confused ethics continued to play hopscotch in her brain.
GH Spoilers – It's All About TJ Ashford
Now, some believe that Cyrus Renault will continue to use TJ (Tajh Bellows) against his mother. Cyrus may threaten TJ again, holding his life over Jordan's head. (Again, the writing by GH staff really needs to improve since Jordan could easily tell TJ to take a hike for a while. Doesn't TJ have a great aunt he could go stay with? Couldn't TJ catch a flight to Tahiti without telling anyone where he's going? Is there any reason TJ can't just leave Port Charles and thus remove himself as a pawn in Cyrus's game?)
In any case, let's say that TJ just has to stay in the area for some reason. Who cares why TJ has to stay, he just has to because … plot hole. If he must stay to create a contrived conflict for Jordan, well she's going to just end up continuing to be Cyrus's zombie in the PCPD.
General Hospital Spoilers – Jason Morgan Swoops In For The Win
Now, some are betting that Jordan finally comes to her senses and agrees to work with Sonny Corinthos and Jason Morgan (Steve Burton) if only because they appear to be her only chance to save TJ. Never mind that Jordan could have done this a long time ago. Also, forget about the episode where Sonny told Jason to take Cyrus out as soon as Cyrus left Pentonville Prison, and then didn't … again because … just because.
General Hospital Spoilers & Rumors: Cyrus Uses Brando To Take Sonny Down In New GH Episodes?https://t.co/y4OlaF9ZIb

— SOS/CTS/HH (@SoapOperaSpy) July 27, 2020
Now, when General Hospital returns fans can expect that writers will attempt to ramp up both suspense and drama by getting Jordan to work with Jason and Sonny. Let's just hope the path to victory for Jordan actually makes sense in the real world and is something an actual cop would do. Otherwise, GH fans ought to absolutely cry murder.
Be sure to catch up on everything happening with GH right now. Come back here often for General Hospital spoilers, news, and updates.